Washington Wizards: Breaking Down the 3 Players They Could Take at No. 3
June 18, 2012

Doug Pensinger/Getty Images
With the Washington Wizards receiving the No. 3 pick in the NBA draft, there are three players they should consider selecting. The Wizards must also address certain needs in free agency, but that depends on which direction they take come July.
One other player not in this list is Harrison Barnes out of UNC. While his offensive touch is excellent, I don't see the Wizards taking a chance on him. He's similar to Michael Kidd-Gilchrist, but without the defensive game.
Here are the top three options for the Washington Wizards in the 2012 NBA Draft. 
Bradley Beal: Florida, Shooting Guard
The Wizards have an opening for a perimeter scorer, and that is exactly what Beal brings to the table. Beal is best when driving towards the basket and would form a high-scoring backcourt with John Wall.
Beal is also an above-average defender, and his shooting improved as the season wore on. If he can continue to work on his shooting, Beal should develop into a solid player in the NBA. At worst, he should be a sixth man who can provide instant offense. At best, he could evolve into an Eric Gordon or Ray Allen type of playmaker. 
Many people think the Wizards should target Gordon in free agency. In my opinion, I don't see Gordon signing in D.C. and Beal is the college player that most resembles his game. He would bring instant offense to a team that needs just that, and is more well-rounded of a basketball player than Jordan Crawford. If he is drafted by the Wizards, Beal would be an immediate starter who would form an exciting backcourt with Wall.
Michael Kidd-Gilchrist: Kentucky, Small Forward
Another need for the Wizards is at small forward. Chris Singleton is currently developing at the position, but Kidd-Gilchrist brings Singleton's tough defense plus an increased offensive attack. While he is not a superstar on offense, he is capable enough to gain steady minutes over Singleton.
Most scouts see Kidd-Gilchrist's biggest attribute as his intangibles. He is a gym rat who always leaves everything he has on the court. According to The Washington Post, he recently stated that the combination of him, John Wall and Nene would make the Wizards a playoff team. While Washington needs more help than just him, his will to win is evident in the statement. 
Kidd-Gilchrist would fit in nicely with the Wizards, as he would provide passion and energy on the defensive end while being able to run a great fast break with Wall on offense. 
Thomas Robinson: Kansas, Power Forward
If the Wizards select Robinson, it will be a case of taking the best player available and not necessarily filling a roster need. The Wizards currently have a log-jam at the power forward position with Trevor Booker, Kevin Seraphin and Jan Vesely all earning minutes last season. Robinson is the most NBA-ready player in the draft, but his position may scare the Wizards off.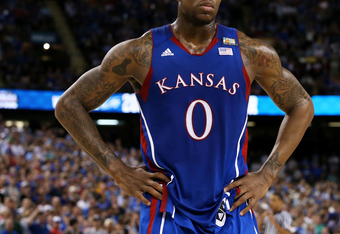 Jeff Gross/Getty Images
Robinson is a bit undersized, but makes up for it in desire. His hustle is excellent, and his biggest skill, rebounding, is something the Wizards could use from their power forward position. He has worked incredibly hard on his jump shot, and can now stretch the floor as well as attack off the dribble. 
The only negative with Robinson has nothing to do with his game. He is a more polished version of Booker, and I'm not sure a No. 3 pick is worth a position upgrade when other players could have a larger impact. 

Who to take?
When it comes down to it, I see Washington either taking Beal or Kidd-Gilchrist. I personally love Kidd-Gilchrist's game, but think that Beal is a better fit in the Washington rotation. Whichever direction they go, the Wizards will have to add a piece through free agency or later in the draft. If I could only pick one, I would go with Beal, and I will not be surprised if the Wizards end up taking him at No. 3.