Minnesota Vikings: Team Must Go Through Major Shakeup for Future Success
June 18, 2012

Patrick Smith/Getty Images
2011 was an especially ugly season for the Minnesota Vikings. After a fresh start with head coach Leslie Frazier, the team limped to a 3-13 record. A general lethargy among the team as well as personnel and coaching issues necessitate major changes if the Vikings are to succeed in the future.
Firstly, the Purple Pride needs more swagger and attitude. With a 1-7 record at Mall of America Field last season, it was clear the Vikings lacked an edge. Good teams have distinct home-field advantages. Clearly, the Vikings had a home disadvantage.
Granted, six of the home losses were by a combined 26 points, with the Vikings holding late leads in multiple contests. At least they were competitive.
But this also reinforces the importance of having an edge at home. The Vikings lacked the killer instinct in the dome. On their own turf, they should close out games strongly and emphatically rather than collapse in crunch time.
Case in point: the Week 3 loss to Detroit. Minnesota led 20-0 at halftime. Thereafter, the Lions outscored the Vikings, 26-3, to escape with a 26-23 overtime victory. This is inexcusable in general. For this to happen at home is especially troubling.
The recently approved stadium bill should help (via Star Tribune). New digs would mean a fresh start for the Vikings. The Metrodome (now Mall of America Field) had its time. It has lost its luster, and the Vikings need a fresh start.
But the failure to close out games (the Vikings led entering the fourth quarter in five of their 13 losses) reflects a need for change at head coach. With all due respect to Leslie Frazier, the Vikings need a high-profile, charismatic coach with a history of head coaching success to provide an infusion of energy and confidence and rejuvenate the team.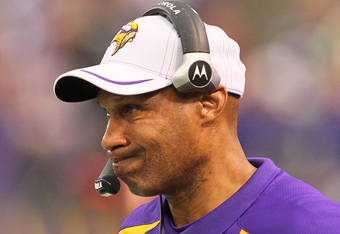 Adam Bettcher/Getty Images
Examples of potentially good fits are Jon Gruden or former Vikings offensive coordinator Brian Billick (if they can be lured back to the league).      
As far as offensive personnel, the Vikings need a high-caliber wide receiver to breathe life into the offense and ease the burden on second-year quarterback Christian Ponder.
Electrifying wideout Percy Harvin is an exceptional athlete and top playmaker, but he is not a No. 1 wide receiver. And 2011 addition Michael Jenkins was underwhelming in his debut in Minneapolis. Yes, he missed time due to injury, but he doesn't solve the Vikings problems.
It's encouraging that Minnesota addressed the thinness at the position by adding Jerome Simpson and drafting former Arkansas Razorbacks Jarius Wright and Greg Childs. They may develop into successful players, but Minnesota needs an immediate spark from a proven player.
This need could be fulfilled either by trade or a free-agent signing. If they can get a top wideout, the Vikes offense could find success.
With a solid receiving corps, a healthy Adrian Peterson, an improving O-line (with first-round pick Matt Kalil at left tackle) and a maturing Christian Ponder, the ingredients for success would be there.
Defensively, the secondary needs help. The Vikings finished 26th in the league in passing yards per game last season. On top of that, the squad only reeled in eight interceptions, tied for worst in the NFL. The ugliest statistic, though, is a whopping 34 passing touchdowns allowed, a league high.  
Jared Allen and Co. are continuing to dominate up front. The D-line tallied 50 sacks last season, tops in the league. So that's not the problem.
Rather, the Vikings need to replace secondary coach Joe Woods. In his six seasons at the helm of the unit, the pass defense has finished approximately 23rd in total yards allowed on average (regular season only). Furthermore, the Vikes have finished dead last or tied for last on two occasions.  
Clearly, the team needs a fresh face here. The team has plenty of potential at the position with veteran Antoine Winfield, third-year man Chris Cook and three fresh draft picks in Harrison Smith, Josh Robinson and Robert Blanton.
If the Vikings find a replacement for Woods who can make a formidable unit out of this group, the defensive will be well-rounded. And a dominant defensive line would only become more effective with solid pass defense.
Although it may be hard to see the light after a pitiful 2011 campaign, the Vikings are not too far off from having the potential to be great. But first they'll need an attitude adjustment, coaching changes and a formidable, proven receiving threat. Once these are accomplished, we could see a Renaissance in Minneapolis.