US Open Payout 2012: What Top Golfers Earned at Epic Olympic Club Event
June 18, 2012

David Cannon/Getty Images
On Saturday at the US Open, Webb Simpson won his first ever major. Simpson recorded a score of one-over par for the tournament, enough to take home the trophy.
In doing so, the North Carolina native collected a cool $1.44 million. Obviously, Webb was the top earner at the event, but let's take a look at what some of the other top golfers earned. 
While Webb took home a gigantic purse, the remaining players in the top 10 did pretty well for themselves. Graeme McDowell and Michael Thompson, tied for second at two-over par, both took home just shy of $696,000.
Not bad for a weekend's work.  
They both were just shy of winning the tournament, losing by only a single stroke. However, $696,000 is a pretty decent consolation prize and will help them to assuage their grief, or at least some of it.
On a side note, I always wonder how much the golfers who have lost the tournament but are still near the top of the leader board think about how much of a money differential will be caused by making or missing that last putt on the 18th green. Surely it has to come into their heads, right?  
Had McDowell or Thompson missed their last putts and accumulated one more stroke, it would've dropped them down to fourth, where a group of five golfers each earned $276,841. Those five were Jason Dufner, Jim Furyk, Padraig Harrington, David Toms and John Peterson, who all posted scores of three-over par for the tourney. 
They earned a lot less than McDowell and Thompson, but once again, $276,841 is nothing to scoff at.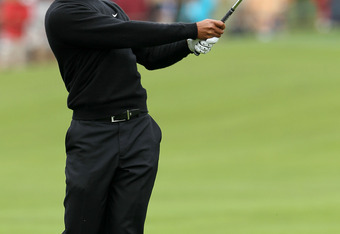 Jeff Gross/Getty Images
Next, Ernie Els held down the ninth spot on his own and took home $200,280. I'm not sure what that amount equates to in South African rand, but nevertheless it's a good payday for the man they call "The Big Easy."
Els played much better than he has for most of this year, and it was good to see him get back on track, as he posted a final score of four-over par. 
Rounding out the top ten was a fivesome consisting of John Senden, Kevin Chappell, Retief Goosen, Lee Westwood and Casey Wittenberg. These three all took home $163,594 after posting a tournament score of five-over.
Not bad for coming in tenth place. 
In case you're wondering, Tiger woods ended up finishing seven-over and took home $86,348. Amateur standout Beau Hossler would've taken home $53,168, but due to his amateur status he wasn't allowed to collect his prize money. However, the money will be there soon enough, and he can't put a price on the amount of exposure, and more importantly experience that he gained this weekend.
All payout information from ESPN.com.
Follow me on Twitter: @rlongo924