2011-12 NHL Fantasy Hockey Award Winners
June 18, 2012

Bruce Bennett/Getty Images
The 2011-12 NHL season is in the books; all that is left to close out the season is the NHL awards, which are on June 20, 2012.  With that in mind it's time to announce the Fantasy Hockey Coach Fantasy Awards.  When looking at fantasy awards there is more to take into account than just goals and assists, many hockey pools use a ton of peripheral stats like power play points, shorthanded points, hits, blocks, steals and more.
Playoff MVP: Dustin Brown
It would have been easy to go with either goaltender as both were fantastic and put up stellar numbers, but Brown brought so much to the table.  He averaged just under 21 minutes a game, scored eight goals and 20 points in 20 games. Finished with a plus-16 rating and 34 penalty minutes. 
He was a stud on special teams, recording a power play goal and four power play points to go along with two shorthanded goals and five shorthanded points.  Brown led the NHL with 93 hits, many of highlight-reel and bone crushing.  To cap it all off he scored three game-winning goals.
Rookie of the Year: Gabriel Landeskog
Not taking anything away from the other rookies, but Landeskog brought more to the table while playing on a poor team.  He finished tied for rookie points with 52 in 82 games and scored 22 goals.  Finished with an impressive plus-20 rating.  Landeskog averaged over 18.5 minutes a game and put 270 shots on net.  He scored five game-winning goals and six power-play goals.  He threw 219 hits, blocked 58 shots and took the puck away 58 times. 
Goalie of the Year: Mike Smith
Smith single-handedly won many poolies their hockey pools this season because no one expected him to put up the numbers he did.  He was fourth in wins with 38, faced the third most shots at 2066 and saved the third most by stopping 1922 of them.
Of goalies who played 20 or more games he had the eighth best GAA at 2.21 and the third best SV% at .930.   For pools that count goalie points and PIMs he added two assists and 16 penalty minutes.  The stat that impressed the most was his eight shutouts; he almost matched his career total of 11 (five seasons) in one season.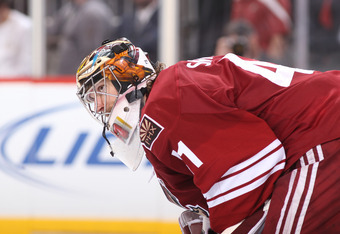 Christian Petersen/Getty Images
Defenseman of the Year: Erik Karlsson
Now doubt about it, Karlsson was the best fantasy defenseman this season.  He outscored the next defenseman by 25 points.  He finished tied for most goals by a defenseman with 19 and finished with 78 points. 
Karlsson averaged over 25 minutes a game and led all defensemen with 261 shots.  He scored three power-play goals and added another 25 power-play assists.  His peripheral stats weren't the greatest with 60 hits, 65 blocks, five game-winners and a plus-16 rating, but that can be overlooked when he is out-producing offensively his competition at such a high margin.
Forward of the Year: Steven Stamkos
Stamkos scored 10 more goals than second place to be the only player to score 60 goals.  His 60 goals are his new career high, which were the 51 goals he scored two seasons ago.  He finished second in points with 97, fifth in shots with 303 and first in game-winning goals with 12.
No one has scored more goals then Stamkos over the last three seasons.  He has 156 goals, the next closest is Alexander Ovechkin with 120. Stamkos also has the second most points over the last three seasons with 283, just four behind Henrik Sedin. He has been the most consistent fantasy superstar over the past three seasons and continues to get better.
MVP of the Year: Evgeni Malkin
Malkin put the Pittsburgh Penguins on his back and carried them all season.  Only Sidney Crosby produced at a better point-per-game rate (minimum 10 games played), but he was limited to just 22 games. 
Malkin recorded his first 50-goal season and third season with over 100 points (109) and did it all in 75 games, giving him a 1.45 point-per-game rate.  He finished first in shots with 339, fourth in game-winning goals with nine, second in power play points with 34 and eighth in power play goals with 12.  Malkin bounced back from a knee injury that forced him to miss most of last season to come back and be the best player in the NHL this season.
----------------------------------------------------------------------------------------------------------------------------
Aaron Brouwer is the co-creator of www.fantasyhockeycoach.com.  FHC is a free fantasy hockey service that developed a ranking system combining post-lockout statistics, current factors and hockey knowledge. Email: brouwer@fantasyhockeycoach.com.