Roger Clemens Acquittal Evidence Government Wasting Time & Money on Steroid Era
June 19, 2012

Chip Somodevilla/Getty Images
Barry Bonds had his day in court and was convicted of obstruction of justice.
Roger Clemens has now had his and he was acquitted on all six counts; three counts of making false statements, two counts of perjury and one count of obstruction of justice. 
Did the government fail? Did celebrity prevail? Does it even matter to you any more?
The fact of the matter is that although Clemens was accused of lying to congress, they fell short of the ultimate goal: conviction. Anywhere from $2-3 million in taxpayer money, plus countless hours, wasted during the 16-month grand jury proceedings.
The question is, why did Congress waste millions of our tax dollars to investigate if a baseball player used steroids? More so, why did they do it twice?
In the case of Barry Bonds the government had it's poster boy for alleged steroid use: Major League Baseball's all-time home run king, the honorary slugger who would snub the media and fans alike. A man thought to be so self-absorbed he was willing to risk the sanctity of the game to achieve the records he sought to create.
Congress tried. Congress failed.
Well, that is if you consider Bonds being convicted on one count of obstruction as failure. A conviction that Bonds is appealing. While attending a recent San Francisco Giants/Arizona Diamondbacks game, Bonds had this to say.
"I went through the system. And that's what it is," Bond said Monday, attending the Diamondbacks-Giants while doing charity work through Big Brothers and Sisters of the Bay Area. "And that's what I got. I went through the system. I'm in an appeal process right now. I was never convicted of steroids."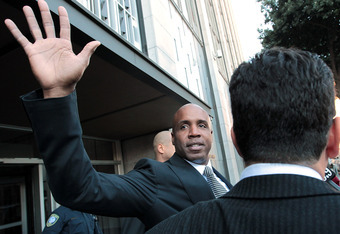 Justin Sullivan/Getty Images
When asked if he had any regrets in having ties to BALCO (Bay Area Laboratory Co-Operative) - Bonds stated:
"Do I have any regrets? What happened happened. It's there. It is what it is. I live with it. I'm a convicted felon for obstruction of justice, and that's who I am. I live with it."

"I gave my life and soul to that game. That's what's heartbreaking. That's the hard part of it," he said. "My (reputation) was kind of iffy anyway. I created that guy out there for entertainment only. Whether you hated me or liked me, you were there. And I only wanted you there. I just wanted you to see the show. That was it. All I ever wanted was for people to have a good time and enjoy it. It was fun to come out and people would boo or yay or whatever. They all showed up to see whatever would happen next and it motivated me to play hard."
Bonds sounds like a humbled man. Of course, he is also appearing on the Hall of Fame ballot for the first time this year.
With Roger Clemens, the Rocket walked away from essentially five years of government investigations unscathed. After the trial, according to Yahoo Sports Kevin Kaduck, the U.S. Attorney's office for the District of Columbia released this statement:
"The jury has spoken in this matter and we thank them for their service.  We respect the judicial process and the jury's verdict.  The U.S. Attorney's Office also wishes to thank the investigators and prosecutors, who pursued this case with tremendous dedication and professionalism after its referral to us from Congress."
Clemens is likely a happy man reading that.
While I've never understood the need for congress to get involved in the cleanup of baseball, I am beside myself with the misappropriation of funds and government resources that have gone into the witch hunt known as the steroid era of baseball.
The American economy has been abysmal. Millions of people are out of work. There have been two wars going on overseas with our troops involved, yet proving the greatest hitter and pitcher in baseball history to be cheaters is more important than the issues that are much more pressing in society.
Could the game have been cleaned up without congress nosing around? Absolutely.
Now that the game's two most prolific players over the last 30 years have been absolved of any guilt surrounding steroids, the circus has left town and it is time to get back to baseball.
That said, now what?
Will Clemens and Bonds be allowed in to baseball's hallowed grounds in Cooperstown, New York? That my friends is another argument for another day.