Washington Redskins: What Impact the "All 22" Videos Will Have on This Season
June 19, 2012

In recent years the NFL has expanded the availability of football content. Whether through Game Day audio or ,Game Rewind, fans have never been more connected than they are today. This season fans will have the opportunity to pull back the curtain and watch the coveted coaches' film.
By purchasing a relatively inexpensive subscription, fans will have access to game film from previously unavailable angles. The films are dubbed "All 22" because they enable coaches, and now fans, to view all 22 players in a single shot. The views are less dramatic than those we are used to seeing on Sunday, but enable the viewer to see the entire field.
This is a fantastic tool that I expecting many, if not most above-average fans, to rush out and purchase. The All 22 film will enable above-average fans to develop into full-blown team extremists. The question to ask now is what effect will this film have on fans perception and reaction to live games.
Many look at this new product as a great way to spread and grow knowledge of the game amongst fans. There's no doubt in my mind that that is absolutely true. All 22 videos will enable fans spend hours watching special film and develop into above-average amateur scouts. Blog and forum debates will flourish with specific references to pre-snap reads and defensive alignments that were previously unavailable to the average fan.
However, with the growth of knowledge comes the growth of expectations. As fans begin to develop greater ability to diagnose game film, complaints of poor performance will increase exponentially. Fans will be much less likely to tolerate the rhetoric from coaches and coordinators because they will have the game film to diagnose on their own.
The NFL has already developed into a "what have you done for me recently" league. Players and coaches are under pressure, now more than ever, to deliver results immediately. The All 22 film will only exacerbate these feelings.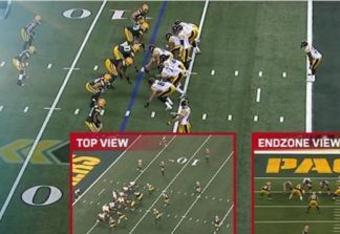 Fans will begin to demand more results in a shorter time frame and have lower tolerance for excuses and failures. Yet, it is hard to say what if any impact this will have on coaches and players. It is possible teams are already delivering results as fast as possible.
Like shareholders in a closely held corporation, football fans are constantly reminding their teams about the need for dividends. The All 22 coaches' film will increase the knowledge and appreciation for fans around the world. At the same time this new feature has the potential to increase fan expectations to unrealistic levels. For teams like the Washington Redskins, this is not good news.
The Redskins have a loyal fanbase that is unafraid to let their team know when they're not producing up to par. The addition of RG3 in DC has expectations higher than in recent memory for the burgundy and gold. Fans will need to be patient as there undoubtedly will be some growing pains with the rookie quarterback.
What impact the All 22 film will end up having on the Redskins is dependent on how they perform in their first four games. If the Redskins emerge with two or more wins, fans will likely be satisfied. However, if the Redskins get off to an 0-4 for start watching, the noise will get louder than in years past.
Washington fans are no strangers to poor quarterback play. However, the poor performances were less shocking from players like John Beck or Rex Grossman. The All 22 film will allow fans to dissect new angles of the Redskins, and potentially over-analyze their new franchise quarterback.
The All 22 film is a great product that will only serve to enhance the quality of the fans' experience. With this new tool, fans will have to take it upon themselves to develop greater levels of patience, or risk potentially damaging their team's future.