Iowa Corn Indy 250 2012: Start Time, Lineup, TV Schedule and More
June 19, 2012

Jamie Squire/Getty Images
The IndyCar Series will return to its roots on Saturday as it continues to tour the breadbasket of the United States.
After racing in Milwaukee last week, the IRL will travel down to Iowa for the Iowa Corn Indy 250. It may not be as prestigious as the Indy 500, but there is no doubt that Iowans love their Indy racing.
Since 2007, the Iowa Corn Indy 250 has been one of the most exciting races on the circuit, so fans will certainly be expecting a lot on Saturday night.
One of the great features about the race is that it doesn't start until 10 p.m. ET, so IRL fans will be able to enjoy some great action into the early morning hours of Sunday.
Here is all the information you need to know about when and where to catch the Iowa Corn Indy 250 and what to keep an eye out for as well.
Where: Iowa Speedway in Newton, Iowa
When: Saturday, June 23 at 10 p.m. ET
Watch: NBC Sports Network
Qualifying
Field will be set Friday, June 22 starting at 7:15 p.m. ET (via IndyCar.com)
Drivers to Watch
Dario Franchitti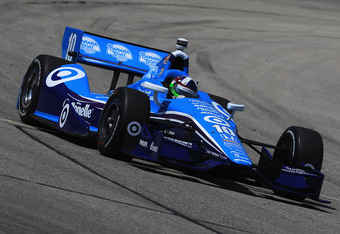 Chris Trotman/Getty Images
As the most successful driver in IRL history, Dario Franchitti is a driver worth watching in every race in which he partakes. He has been especially good in Iowa, however, as he has won twice during the race's five-year history.
Franchitti has had an up-and-down 2012 season, but he was able to win the Indianapolis 500 and is a threat to take the checkered flag each and every time he rolls out onto the track.
It is interesting to note that Hondas have won all five races in Iowa, so Franchitti holds an advantage in that regard. Franchitti's name appears on the winner's list at most tracks, but if he can win on Saturday, he will have won half of the Iowa races and will essentially make the race his own.
Marco Andretti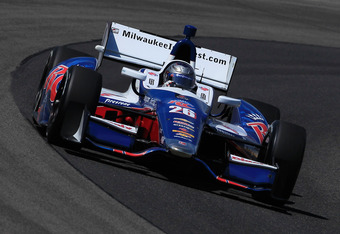 Chris Trotman/Getty Images
Saying that Marco Andretti has had a tough year would be an understatement. Coming from racing royalty, Andretti constantly feels the pressure to perform at a high level.
Perhaps that pressure, couple with some bad luck, has gotten to Andretti this year. He is just 18th in the points standings currently and has yet to record a top-10 finish. He was a big-time player in the Indy 500, but mechanical issues forced him from the race.
With all of that said, though, Saturday will present an excellent chance for Andretti to get back on track. He won the Iowa race last season for the second victory of his career and finished second and third in 2007 and 2008 respectively.  
Andretti obviously has a comfort level at Iowa Speedway, so it will be interesting to see if that translates to better results.
Josef Newgarden
Josef Newgarden entered his rookie season in the IRL with high expectations, and while he hasn't run consistently well in the races, there is a lot to like about the youngster.
Newgarden qualifies well on a weekly basis and puts himself in a position to have success, so it is only a matter of time before that translates to the race itself. If ever there were a race for him to officially break out, Saturday's Iowa Corn Indy 250 might be it.
He was dominant last season in the Firestone Indy Lights Series, winning five races as well as the points title. One of those wins came at Iowa, so Newgarden knows what it takes to reach victory lane at Iowa Speedway.  
The 21-year-old will have a ton of top-notch competition to contend with, but he has nothing to lose and figures to go for the win if he is in the running late.
Follow @MikeChiari on Twitter