Which 2013 NFL Draft Prospect Has the Most to Lose This Season?
June 19, 2012

Stephen Dunn/Getty Images
Before the 2011 college football season began, one of the biggest names in the NFL draft universe was Landry Jones, a quarterback for the University of Oklahoma.
Fast-forward one year later and Jones opted to return to OU after a poor junior season led to his draft stock bottoming out. Which player in the 2013 draft class is being watched with equal regard this year?
Matt Barkley.
Like Jones was, Barkley is rated very high on preseason draft boards. Learning from Jones' meteoric fall and poor play last year, how do we measure Barkley's potential as a draft-stock faller?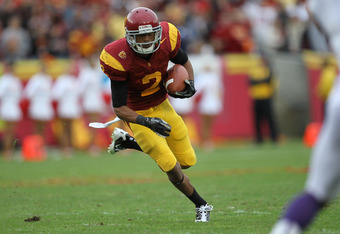 Stephen Dunn/Getty Images
The Talent Level
Landry Jones' 2011 season, and eventual draft prospects were incredibly altered by the injury of wide receiver Ryan Broyles. A healthy Broyles helped Jones put up over 4,700 yards passing with 38 touchdowns to just 12 interceptions in a loaded Big 12 conference. Jones didn't start the season as hot in 2011, but once Broyles went down Week 9 of the season, Jones' play dropped off completely.
It was quickly evident that Jones' 2010 season was largely due to the talent around him, which included Broyles, running back DeMarco Murray and others. Without them, Jones suffered.
Barkley is in a similar situation. At wide receiver he has two All-American quality players in Robert Woods and Marqise Lee. During the 2011 season he had future No. 3 overall pick Matt Kalil protecting his blind side. The USC football depth chart is loaded with All-Americans and future first-rounders in the NFL draft; separating Barkley from the talent around him will be a chore for NFL scouts this fall.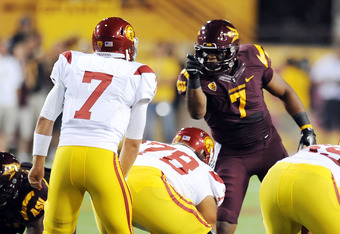 Norm Hall/Getty Images

Size
USC lists Matt Barkley at 6'2" and 220 lbs, but it's much more likely that he played last year at 6'1 1/2" and 210 lbs. That may not seem like a big difference, but being under 6'2" is a death wish for quarterback prospects.
Much was made of the fact that RGIII measured 6'2 3/8" at the NFL Scouting Combine, as this confirmed he was over the 6'2" barrier scouts and coaches have applied to the position. Barkley won't be so lucky.
The lack of size on Barkley's frame is and will be an issue that drives down his draft stock as much as anything he does on the field.
Expectations
There was a point last year when many were talking about Barkley in the same sentence as Andrew Luck, even ahead of Robert Griffin III as a quarterback prospect. Living up to those expectations may be too much for anyone to handle.
USC has a talented team, and Barkley does great things with the football, but he's not the athlete that RGIII is or the pre-snap quarterback that Luck was at Stanford. Like Jones at Oklahoma, Barkley will only be as good as the talent around him this fall. If either of his two All-American quality receivers falter, or if a new left tackle struggles, Barkley will be exposed.
Barkley has the arm talent—accuracy, touch, strength and velocity—to be a starting quarterback in the NFL, but expectations are too high for this college passer. Barkley's lack of size, the talent around him and unachievable expectations all add up to a year that will see him succeed as a college quarterback, but plummet in terms of draft stock.