Winnipeg Jets: Latest Trade Rumors, Free Agent News, Draft Buzz
June 19, 2012

Marianne Helm/Getty Images
Pre-Draft Buzz
There are just three days left until the highly-anticipated NHL draft. It's an exciting night for hockey fans and for these young players waiting to find a new home. It's a night where the Winnipeg Jets will look to add another piece to their collection in the process of building a Stanley Cup-caliber team. So without further ado, with the ninth-overall pick in the 2012 NHL entry draft, the Winnipeg Jets select…
There are still plenty of mock draft boards that have the Jets selecting defenseman Jacob Trouba with their first-round pick. It's probably the consensus pick right from mock drafts I've viewed, but the only thing that matters is what GM Kevin Cheveldayoff thinks. Cheveldayoff has been quiet on the subject, but it's expected that he'll take the best available player when the Jets are on the clock this Friday.
Trouba may be a Jet come Friday, but things could change depending on how teams draft ahead of them. Or the Jets could reach for someone; we've seen it as early as last year when the Jets took Mark Scheifele about 10 picks too soon.  
Regardless of what happens, it should be an exciting night for Jets fans. And I emphasize the word "should" because the Jets have been in the news for other reasons lately which could be a downer.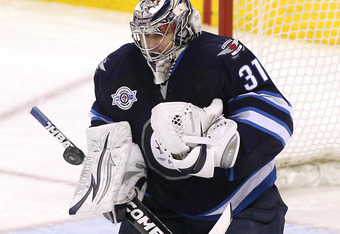 Marianne Helm/Getty Images
Trade Rumors and Free Agent News
The Winnipeg Jets could be in the news for more than one occasion this weekend. Let's take a look at the latest rumors that have been going around.
Rumors have been swirling that Jets' goalie Ondrej Pavelec received a "big money" offer to play in the KHL next season, and today, TSN's Darren Dreger reported that the Jets only options are to pay him or trade him.
Dreger states that it'll take at least $4 million per year and a multi-year contract to keep Pavelec in the NHL. So the big question here is do the Jets trade or keep Pavelec?
The consensus is to keep him and I'm sure that's their goal right now, but what if Dreger is wrong? In the KHL, teams can afford to give away money like it's nothing. What is the "big money" offer that awaits Pavelec in the KHL or in other words, how much would he receive on a yearly basis? What if Pavelec is seeking an outrageous dollar amount such as $5 to $7 million per year in the NHL and basing it off of his KHL offer?
A $4 million per year and four to five year contract wouldn't be that bad at all so I'm not sure why anyone would be surprised with that number. And if he's asking for $4 million a year, then it certainly doesn't seem like a big deal for the Jets to pay. What worries me is if it's a lot more than that. Sadly, the Jets have to consider trading him if the dollar amount is ridiculous.
Pavelec was the Jets anchor for so many games last season. When the Jets needed someone to step up, Pavelec was up to the task every time. The Jets rebuilding process has run smoothly to this point, but losing Pavelec would put a dent in this franchise and may even set them back a couple of years.
I never expected Pavelec to turn "money hungry" and I always thought he loved the NHL and had no reason to bolt to the KHL. Nor did I ever expect him to turn on the team that birthed him— the team that traded away a star in his own right in Kari Lehtonen just to please Pavelec.
If this situation does spiral out of control and Pavelec is forced to be traded or leaves for Russia, it'll leave a bad taste in the mouths of many fans.
On to another rumor… one that doesn't have any legs which is why I'm only going to briefly say a few words about it and move on.
Recently, there has been chatter from unreliable sources that Evander Kane is unhappy in Winnipeg and wants to be traded. No reliable outlet has reported this rumor to be true or not which is why I say it has no legs.
The important thing here is that Kane is still an RFA. However, Kane hasn't mentioned anything about this rumor and there is no way to tell whether or not he is truly unhappy in Winnipeg. One thing to remember is Kane was one of the first players to embrace the move from Atlanta to Winnipeg. Kane knows this is his team, and that he'll be the centerpiece of this franchise for years. He'll stay.
This weekend will be an important one for the future of this franchise and I know it will be an exciting weekend even for Jets fans. Let's get ready to welcome the newest members of the Winnipeg Jets!