Philadelphia Eagles: What Signing O.J. Atogwe Would Mean
June 19, 2012

Rob Carr/Getty Images
As of this writing, the Philadelphia Eagles have not officially announced the signing of free agent safety O.J. Atogwe. However, it appears that it's just a matter of time before it does become official.
According to a report by Arash Madani of SportsNet in Canada, the Eagles have, in fact, reached a deal with the veteran safety. But, according to Jeff McLane of Philly.com, the deal hasn't been signed...yet.
In McLane's article, he says, "Atogwe told ESPN Radio 980 in Washington via text message that he signed with the Eagles."
Therefore, it sounds like the Eagles just have to work out some details, mainly who they're going to release to make room on the roster for Atogwe.
So, assuming this holds true and the Eagles do sign him, what does this mean for the current safeties on the team?
It means that Nate Allen, Kurt Coleman and Jaiquawn Jarrett can no longer feel secure in their current role.
On the surface, Atogwe is being brought in as insurance, an experienced backup plan should he be needed. However, the underlying reason is to bring out the best in Allen, Coleman and Jarrett.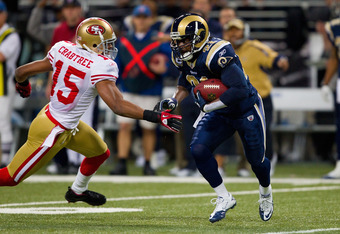 Dilip Vishwanat/Getty Images
Right now, Allen and Coleman are the starters, and that won't change once Atogwe signs. The Eagles want Allen to start at free safety and want to see Jarrett push Coleman for the starting spot at strong safety.
However, Jarrett has been getting less-than-stellar reviews from Andy Reid, and Coleman is simply the incumbent.
Jarrett and Coleman have the most to prove, as neither player has a stone-cold lock on the position. Atogwe may end up teaching them a thing or two, but he'll also be pushing them for a starting spot as well.
Atogwe has played most of his career at free safety, but he does have experience playing the strong safety position. In essence, he could serve as a backup for both spots, especially since there isn't a pure free safety to back up Allen currently on the roster.
And before you say it, I'm not counting any rookie, undrafted free agent or even Colt Anderson as a currently viable backup at free safety.
Another interesting thing to think about if Atogwe signs is how it may impact the final roster cuts.
The Eagles usually keep a total of nine defensive backs on the final 53-man roster. Those nine spots are typically broken down with five corners and four safeties. Last year, they only kept three safeties and went with six corners.
Signing Atogwe is going to directly impact the chances of the following players making the roster: Jaiquawn Jarrett, Joselio Hanson, Brandon Hughes, Colt Anderson and—everybody's favorite undrafted free agent safety—Phillip Thomas.
Chances are, the Eagles will keep four safeties this year because it would just fit too nicely: Allen, Coleman, Jarrett and Atogwe. (Sorry Thomas fans, Atogwe would kill his chances of making the roster.)
Therefore, they could only keep five corners.
The Eagles are high on Hughes, and Curtis Marsh is said to be the first man up for the outside if Nnamdi Asomugha or Dominique Rodgers-Cromartie get injured. That would leave Hanson as the odd man out.
And ultimately, that's probably how it will play out (along with Anderson starting out on the PUP list).
However, I think there is an outside chance that the Eagles could actually cut Jaiquawn Jarrett. Andy Reid did not sound enthusiastic when he was asked about Jarrett's progression this offseason.
In fact, this is what Reid said:
"We'll see,'' Reid said. "Last year, he was doing too much thinking and not enough playing. That's going to slow you down. He's not the fastest guy in the world as it is, but he's fast enough.

"You didn't see the big hits that you saw out of him at the college level."
Reid did get slightly more positive about Jarrett, but his first reaction was, "We'll see." In Reid-speak, that's not a good endorsement.
I wrote an article last month on the possibility of Jarrett being the third-wheel at safety. The coach's lack of optimism about him is likely the main reason the Eagles are interested in bringing in a safety.
I don't think Reid will give up on Jarrett so quickly, but there's enough doubt that I think it's a possibility, albeit a slight one. If Colt Anderson is back to 100 percent by final cuts, then things will be very interesting.
Being interested in a veteran safety isn't something new this offseason. The Eagles were also interested in LaRon Landry and Yeremiah Bell before they signed elsewhere, so this shouldn't come as a huge surprise.
This would be a solid signing by the Eagles and provide much-needed insurance at safety.