NY Jets' Tim Tebow Wins Same Good Guy Award Won by Brett Favre and Tiki Barber
June 20, 2012

Jeff Zelevansky/Getty Images
Tim Tebow won the Good Guy Award, which doesn't guarantee the famous football player will remain a good guy. 
The New York Daily News reports the man who turned the nation mad won the Good Guy Award from the Pro Football Writers of America on Tuesday. 
Well, that's fairly obvious. If there is one accolade I have no issue with Tebow receiving, it's the Good Guy Award. Hell, give him the Nice Guy Trophy and the One Hell of A Dude Medal while you're at it. 
The report gives us an inkling into what exactly constitutes a winner of this award. 
The award was first given by the PFWA in 2005. It's awarded "to a player for his qualities and professional style in helping the pro football writers do their job."
Well, that's another "duh" item right there. 
Tebow was the reason so many words were written and why so many shouts were recorded on sports debate shows.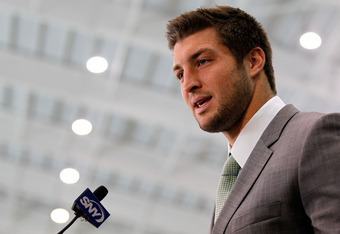 Mike Stobe/Getty Images
The world just couldn't get enough Tebow in 2011, and it's a big reason we all looked for his second coming in the form of other athletes in various sports. Jeremy Lin, we are looking at you. 
The plot thickens when you see who past winners of the award were. 
Tiki Barber - 2006
LaDainian Tomlinson - 2007
Brett Favre - 2008
Kurt Warner - 2009
Drew Brees - 2010
Aaron Rodgers - 2011
It seems that there is not a 100 percent guarantee that a winner will remain a "good guy." At least, he won't claim that label with the masses after winning the award.
Brett Favre left the game with a myriad of off-the-field issues boiling over, namely one sexy picture he allegedly sent to Jenn Sterger.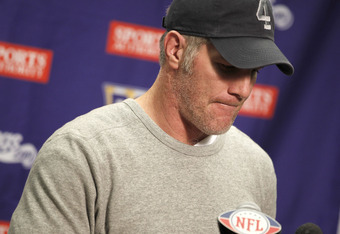 Gregory Shamus/Getty Images
There is also the case of Tiki Barber who famously left his wife for Traci Lynn Johnson. 
Of course, I have confidence Tebow escapes that fate, as he is pretty much the most pious and humble player in all of sports. 
It's just too damn hard not to like this good guy. 
Follow me on Twitter for more things that are good.