Who Will Have a Better Colorado Rockies Career: Drew Pomeranz or Alex White?
June 20, 2012

Doug Pensinger/Getty Images
Siegfried and Roy. Penn and Teller. And in Rockies circles, Drew Pomeranz and Alex White. The pair has known each other for only a handful of years, but will likely always be joined at the hip in the eyes of the MLB.
Before being sent to the Colorado Rockies in a blockbuster trade, the only thing held in common by the prospects was the honor of being first round selections in consecutive years.
Now, on a Colorado pitching staff decimated by injury and inadequacy, Pomeranz and White are jockeying for slots in the starting rotation. But who will enjoy a better career in the majors?
Drew Pomeranz is the more celebrated prospect of the two. The Ole Miss southpaw went 5th overall in the 2010 draft and was lauded for his pitching arsenal, but his command was slightly questionable. Now, the flaws in command are more apparent. Pomeranz began the season with the Rockies, but was demoted after five starts to refine his control.
On the surface, the Triple-A numbers are respectable, starting with his 3.06 ERA. But the Rockies still aren't satisfied with his development and have made no indication on bringing Pomeranz back up to the majors.
In his seven starts in Colorado Springs, the big lefty has averaged just five innings per outing. The Rox surely want longer appearances from their young pitcher.  
Alex White swapped places with Pomeranz early in the season and has remained on the Rockies roster. The first rounder from North Carolina lives off of a good fastball and slider, and has flashed some impressive stretches in his brief majors stint.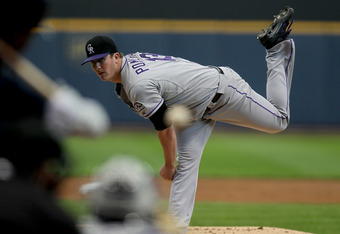 Mike McGinnis/Getty Images
However, White's problem is a bad tendency to leave the ball up in the zone, and the best hitters in the world rarely make mistakes on such "gimme" pitches.
He has coughed up six homers in his last four starts. But in the grand scheme of things, White has lasted through the sixth inning in five of his eight outings. The only other starter to match White's number of deep starts is Juan Nicasio, who also has five.
And Colorado's overworked bullpen will take every break they can get. And yes, in Rockies circles, asking for just three innings from your bullpen makes relievers celebrate like they won a weekend Caribbean getaway.
Pomeranz may be more of a project than first believed, but his tools should allow him to establish a respectable career. His 2012 numbers as a Rockie honestly weren't too shabby, but management is intent on slowly bringing around one of their top prospects.
So intent, in fact, that the Rox are embarking on a head-scratching four-man rotation, rather than bring Pomeranz back into the fold.
Almost the entire league is wincing in car wreck-like anticipation of the absurd four-man front, so maybe Pomeranz will finally make a return around the All-Star break.
Alex White is slowly starting to evolve into a decent pro pitcher, but his knack for the occasional homer could very well hamper him throughout his career. His pitch lineup is also deemed slightly inferior to Pomeranz's, and many scouts believe his talent sharply tails off after his nice fastball-slider combo. Plus, flyball pitchers have a rough history on the launching pad at 20th and Blake.
I'm still convinced Pomeranz will become the better pro, even though White has the jump on him for the time being. But in the end, if both can simply become respectable pitchers, the Rox themselves will be jumping for joy.