Chicago White Sox Knocked out of First by the Cubs
June 20, 2012

Jonathan Daniel/Getty Images
The Chicago White Sox were removed from the top of the AL Central following a 2-1 loss to the Chicago Cubs Tuesday night. Jake Peavy's hard-luck loss marked a few other milestones the Southsiders wouldn't mind forgetting.
With the loss, Chicago has dropped their fifth straight series. Four of those series losses have come at the hands of NL opponents.
Since June 8 when the White Sox began a series with the Astros, they have gone 3-8. Cleveland finally overtook them with an extra-inning win over the Reds. Detroit also closed the gap Tuesday.
The hard part to swallow about this situation is that it took the Indians almost two weeks to catch Chicago. A good run through the National League would have built a lead. That hasn't been the case.
The pitching staff has not been as consistent as one would like, but there are four one-run losses to swallow among the eight interleague defeats. Three of those losses featured dominating performances by White Sox pitching.
Peavy dropped a 1-0 decision to St. Louis in his last start. Jose Quintana went eight shutout innings Sunday before the bullpen couldn't finish in a 2-1 loss to the Dodgers.
Peavy went the distance Tuesday and deserved better than he got scattering five hits. A throwing error by Orlando Hudson and a wild pitch set up a two run single by David DeJesus.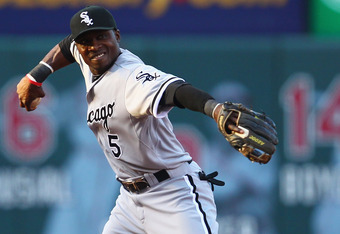 Dilip Vishwanat/Getty Images
It's easy to point at starters like Gavin Floyd and Phillip Humber. Not helping matters was Zach Stewart's underwhelming spot start Monday that led to his demotion the following day.
It's clear the rotation will have to tighten it up. The fact remains that Chicago could still be a few games up on the rest of the Central Division with some timely hitting.
This is very much a team slump right now. With John Danks out for what appears to be another month at least, Floyd gets his first shot at a quality start since May 11.  It's time to see if some side work with Don Cooper pays off with a win.
Avoiding a sweep and getting everyone pulling in the same direction against Milwaukee this weekend could get the White Sox back in the top spot in the AL Central.