Tim Lincecum: Time to Move Former Giants Ace to the Bullpen?
June 21, 2012

Thearon W. Henderson/Getty Images
Heading into his next start, Tim Lincecum holds a record of 2-8 with an ERA of 6.19. Although he has struck out 83 batters in 77 innings of work, he has also allowed 41 walks, and has a 1.57 WHIP to show for it. 
In addition to his poor record, the San Francisco Giants have been woefully unsuccessful in Lincecum's starts, having gone 2-12. The fact that they are six games over .500 is truly amazing.
So, should Lincecum be moved to the bullpen, at least until he returns to form?
Picture this: Lincecum comes in out of the pen and does not have to worry about going through the batting order three or four times. He can focus on putting everything out there for just one or two innings. He shows improved velocity because there is no reason to hold back. He dazzles hitters with his deadly changeup and keeps them off-balance with his other breaking pitches.
This all sounds great, doesn't it?
Unfortunately, this is not the answer to Lincecum's struggles for several reasons.
First off, Lincecum has had trouble early in games, particularly in the first inning. It often takes him a couple of frames to smooth out his mechanics and establish the pitches that are working best for him. Needless to say, his command is not where he wants it to be. 
Once he gets locked in, however, Lincecum has pitched well and shown flashes of dominance reminiscent of his Cy Young years.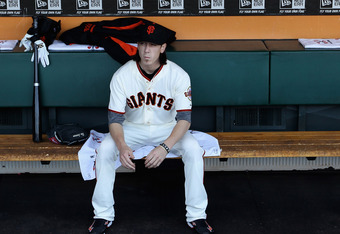 Ezra Shaw/Getty Images
In addition, with Barry Zito looking like he has lost the magic that he opened the season with, the Giants need Lincecum to step up now more than ever.  
Matt Cain, Madison Bumgarner and Ryan Vogelsong have been outstanding, but it is unrealistic to expect them to win every game. Unfortunately, the Giants do not have any minor league prospects ready to replace either Zito or Lincecum.
It is possible the Giants could find a pitcher in their system who could contribute at the major league level, or perhaps make a trade for a veteran arm prior to the trade deadline. 
A trade, however, will not come cheap, as the Giants would probably have to give up someone like Nate Schierholtz or Brandon Belt, plus a quality young player like Heath Hembree, Joe Panik or Gary Brown.
Bottom line, the Giants cannot afford two dead spots in their starting rotation.
Timmy needs to attack hitters and really hone in on the location of his pitches. This season, he has been prone to the big inning, which has come from a lack of command, focus and confidence. He struggles to squelch rallies and minimize the damage once a team breaks through against him.
While he has been hurt by poor location throughout the season, a more alarming concern is that his velocity is way down from when he first came up with the Giants. Back then, he could effortlessly throw his fastball in the 95-96 mph range. Nowadays, it is extremely rare to see him at even 93-94 on the radar gun.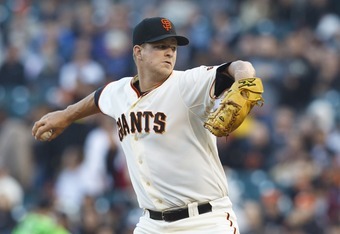 Jason O. Watson/Getty Images
Lincecum also came into the spring about 20 pounds overweight. He worked hard to get himself down to his normal playing weight, but he obviously did not stay in shape this past offseason. Hopefully, his recent struggles will serve as a wake-up call.
Moving Lincecum to the bullpen is not the answer. The Giants relief corps is doing a very good job, for the most part. The team's main concern right now must be solidifying the starting pitching beyond Cain, Bumgarner and Vogelsong. 
Lincecum's next outing is against the Oakland A's, who are far from an offensive juggernaut. Following the game against Oakland, Lincecum should have three more starts before the All-Star break. 
This upcoming stretch will be crucial for the Giants to keep pace with the Dodgers in the NL West, and to determine Lincecum's future with the organization. The former ace needs to turn things around, and he needs to do it as a starter.