Erin Andrews Reportedly Eyeing Long-Term Deal with ESPN
June 21, 2012

Bruce Bennett/Getty Images
ESPN's Erin Andrews has been on a roller coaster as it pertains to her popularity in and around the network, but a recent report signals she is near a long-term deal with the worldwide leader. 
There is a great shuffle occurring at the moment, with Michell Beadle leaving ESPN for NBC, and Darren Rovell leaving CNBC for ESPN. 
As for Andrews, it seems the big news is things will remain as they were for quite a while longer. 
Terez Owens reports Erin Andrews is near a contract extension to stay at the network that made her a popular mainstay on the sidelines of some of the biggest sporting events.  
...our source close to the situation tells us she (Andrews) will indeed be working out a long term contract with the Mothership. The last time her contract was up, ESPN gave her more on-air gigs beyond her sideline reporting duties...I'm being told they will once again try to tailor some special projects to fit Erin's particular set of skills...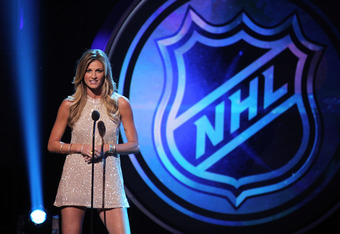 Isaac Brekken/Getty Images
It's odd that a world once dominated by Erin Andrews has seen the reporter take a bit of a backseat to other, more popular personalities. 
Namely, Michelle Beadle stole a great deal of interest from Andrews with her ability to infuse humor and wit on shows like SportsNation. 
For Andrews, the network has yet to give her a vehicle to allow her to stretch her creative legs outside of sideline reporting. 
Outside of College GameDay, ESPN hasn't really shown confidence in Andrews as a host or anchor, so it will be interesting to see what a new deal will warrant her in face time outside specific sporting events. 
Of course, this report is merely a nameless source, so we take it with a grain of salt. Andrews may still be weighing her options with other networks, but it seems a stay with ESPN is more likely. 
I am interested to see if the most popular sideline personality can finally break free and become simply an ESPN personality. 
Follow me on Twitter for updated awesome.