Brandon Jacobs Goes Above and Beyond to Repay Six-Year-Old Superfan
June 21, 2012

Al Bello/Getty Images
Brandon Jacobs is pretty much a superhero to one six-year-old New York Giants fan right about now. 
We reported right here in early June about former Giants running back Brandon Jacobs getting quite the letter from a young fan. 
The six-year-old boy named Joe was distraught that his favorite player would not be carrying the ball for the his favorite team any longer. That drove him to send a letter hoping his hero would come back to the team, and even sent $3.36 as an incentive.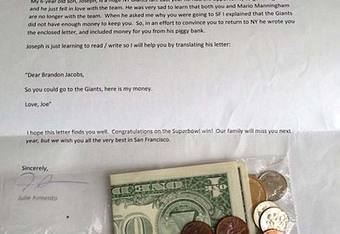 We now have an amazing update. 
Matt Barrows of the Sacramento Bee caught up with Jacobs who now plays for the San Francisco 49ers. 
Jacobs apparently took his super fan, Joseph Armento, and his four-year-old brother on a day of fun they will never forget.
The running back was back for a short time in New Jersey and decided to make good on a promise. 
He (Jacobs) thought his original idea for a meeting place, Chuck E. Cheese, might cause too much of scene. So they settled on a bounce house.

Jacobs, 29, brought his five-year-old son, Brayden, and the four kids - Jacobs included - played non-stop for nearly two hours. No one even took a water break.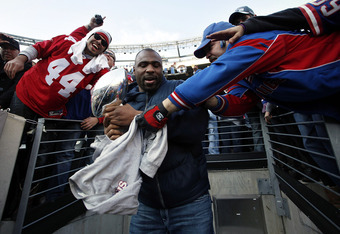 Jeff Zelevansky/Getty Images
Playing two hours with a few kids may be nearly as exhausting as a mandatory team workout, so we give huge props to Jacobs in that regard. 
Joe's mom was just as happy about the exchange as her young son was. 
He (Jacobs) told me he really wanted to get out there with the kids. He really wanted to enjoy it, and he did. It was amazing.
The 49ers' player gave young Joe a signed Giants helmet and returned his money in the form of a crisp $5 bill. 
Yes, the six-year-old even made money on this whole exchange. 
It's a story that has to make even the most cynical of us smile. Imagine being a little boy and playing all day with your favorite athlete. One young kid was able to do just that. 
I imagine there is a flood of kids sending dollars through the mail to their favorite athletes. Best case scenario, there is a bounce house in their future. 
Follow me on Twitter for updated awesome.