LeBron James Ends Best-Player Debate with Dominant Playoff Run, 2012 NBA Finals
June 22, 2012

Mike Ehrmann/Getty Images
In reality, LeBron James has been the best player in the NBA for some time—at least since he first lifted the Maurice Podoloff Trophy as the league's MVP in 2009.
But LeBron's brilliance has too often been lost in the fantastical ether that separates perception and reality in professional basketball, obscured by his own miscues and immaturity—both on and off the court—as well as the glint and glare of jewelry accumulated by the veterans ahead of him and the prodigious gifts of the young stars coming up behind him.
Until now, anyway.
No longer can LeBron's astounding statistical feats be brushed aside by meme-grade quips about ringless fingers and absentee fourth quarters and receding hairlines.
Though, as far as anyone can tell, the Larry O'Brien Trophy doesn't come equipped with the cure for male pattern baldness.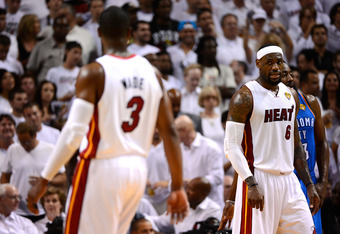 Ronald Martinez/Getty Images
It's not just the fact that LeBron now has a ring to his name that further validates his status as the best basketball player on the planet, but rather how he came to earn that most precious of mementos that puts James head and shoulders above his peers.
In leading the Heat through the Eastern Conference playoffs and the NBA Finals, LeBron broke his own record for most consecutive postseason performances of 25 points or more with 15, including all five NBA Finals games. All told, he posted breathtaking averages of 30.3 points on 50 percent shooting, 9.7 rebounds and 5.6 assists. He's the only player in league history to have registered a line of 30-9-5 with 50 percent shooting or better over the course of a postseason run...and he's now done it twice.
The only other player who's come close to matching him? Oscar Robertson—who shot 47 percent while averaging 31.8 points, 13.0 rebounds and nine assists in 12 games for the Cincinnati Royals in 1963, when the Big O and company lost to the Boston Celtics in the Eastern Division finals.
For those who claim (or rather, claimed) that LeBron isn't the best in the business because he couldn't get it done on the biggest stage, the statistical proof against their arguments is just as sensational, if not more so.
After struggling to score more than 20 points per game in 10 previous finals tilts (in which his teams went 2-8), James came back this year with 28.6 points, 10.2 rebounds and 7.4 assists in ousting the Oklahoma City Thunder in five games. That was more than enough to make him the NBA Finals MVP, and just the 10th person in league history to hoist a Bill Russell and a Mo Podoloff in the same campaign.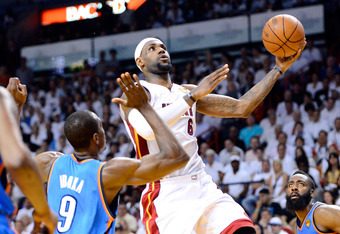 Ronald Martinez/Getty Images
LeBron punctuated that brilliance with his second career finals triple-double (26 points, 11 rebounds, 13 assists) in a 121-106 blowout in the clinching game to etch his name alongside those of Magic, Wilt, Bird, Russell and Cousy—James' only postseason, stat-stuffing, triple-double peers in the history of the game.
But forget about stats. Maybe you distrust them, right next to lies and damned lies.
Cycle back through the tape of LeBron's 22 games, and you'll see a superstar playing his heart out, night after night. You'll see the most gifted player to ever grace the hardwood playing to his full potential in a way that's almost difficult to appreciate because he did it so consistently. You'll see a man playing and guarding every possible position on the court, and doing so with apparent ease—dominating in the post, shooting from the perimeter, crashing the boards, running the break, picking off passes, blocking shots, pestering world-class competitors and everything in between.
And, at times, while playing on a leg (not a heart) that seized up at inopportune moments.
You'll see a player who gave so much...and then gave even more when his team needed him to, when Chris Bosh went down with an abdominal strain and Dwyane Wade's creaky knees made him look more like "The Jog" than "The Flash" at times. 
You'll also see him outplaying Kevin Durant, the 23-year-old wunderkind who's often been touted as his closest competitor for the "best baller" crown.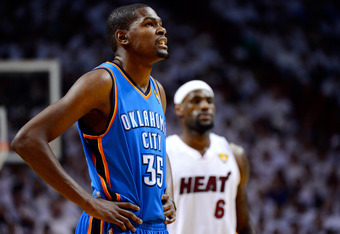 Ronald Martinez/Getty Images
Keep in mind, the Durantula didn't play poorly, either. All he did was score 30.6 points (on 54.8 percent shooting), rip down 6.0 rebounds and drop 2.2 dimes in his first ever trip to the finals.
As for Kobe Bryant, his overall resume may be more stacked, with five rings and more points than you can shake a stick at, but that's much more the product of seven more seasons spent in the NBA. The Black Mamba may be a "greater" player in the annals of NBA lore, but in the here and now, even he has to look up at LeBron rather than the other way around.
Kobe has no other choice, really, not after his Los Angeles Lakers were sent packing by OKC weeks ago.
Above all, LeBron has bested himself. The man who plays for himself, his teammates and the love of the game, schooled the once-snotty kid who let his friends orchestrate TV specials in his honor and played with anger in a vain attempt to silence his critics.
Because, at long last, the most scrutinized player in NBA history figured out that to overcome that stinging scrutiny—to put the haters in their place—he must first ignore them entirely rather than go out of his way to jam an already stocked furnace with more fuel. He even learned to poke fun, in perhaps the most public way possible, at those past transgressions that made him such a villain in the court of public opinion.
In the process, LeBron put the most scrutinized and most hyped team in NBA history on his back and helped it live up to the hype, against worthy opponent after worthy opponent after worthy opponent.
Of course, haters are still gonna hate (and potatoes still gonna potate, and so on and so forth). They'll say that LeBron needs to add another ring to his collection to be considered the best, and they'll demand more every time he does. They'll say that this title doesn't mean as much because it came at the conclusion of a lockout-shortened season. They'll say that King James and the Heat won't defend their throne, and that they'll be overrun by the matured Thunder or the retooled Lakers or the recharged Celtics or whomever else (Spurs, Bulls, etc.) and never return to the mountaintop.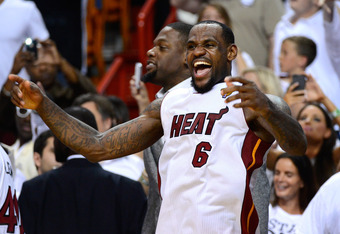 Ronald Martinez/Getty Images
When all else fails, they'll clown on LeBron's headband.
And then the trolls and detractors and Skip Baylesses of the world will crawl back through the doors of perceptions to seek shelter in the deepest, darkest recesses they can find, as a newly-bejeweled reality shines through that murky ether to shed light on a new perception. 
A perception that, for some, has been evident for years—that LeBron is the best and will continue to be, until someone knocks him off his perch.