NHL Rumors: Who Won the Jordan Staal Trade, the Penguins or the Hurricanes?
June 23, 2012

Bruce Bennett/Getty Images
On a day full of excitement and expectations for fans around the hockey world, the Pittsburgh Penguins and Carolina Hurricanes teamed up to deliver just that.
Just days after Jordan Staal reportedly rejected a 10-year mega-contract offer from the Pittsburgh Penguins, the 23-year-old center found himself on the move, to play with his older brother Eric.
Call it a wedding present from Pens GM Ray Shero (Jordan's wedding was Friday night in his hometown of Thunder Bay, ON).
Fortunately for Penguins fans, Shero somehow managed to come away as the winner of the deal, landing both Brandon Sutter and Carolina's eighth overall selection of the draft, as well as prospect Brian Dumoulin (who was ranked as Carolina's second best defensive prospect by hockeysfuture.com).
While no one is questioning Jordan Staal's talent, it is still fairly surprising that Shero was able to extract so much from Jim Rutherford with such little leverage. Stall is only under contract for another year, but he is expected to resign with Carolina.
Considering that everyone that pays any kind of attention to the NHL knew that Jordan Staal wanted to become more than just the "best third-line center in hockey", Shero definitely deserves a tip of the hat.
In Brandon Sutter, the Pens receive a dynamic youngster, who was as close to untouchable as nearly anyone on the Carolina Hurricanes roster.
In three full seasons at the NHL level, Sutter has accumulated 101 points in his 236 games, but is expected to develop further into a solid two-way player, who can play center and the wing, and display a great amount of grit.
Sutter should be able to anchor the Penguins' third line for a long, long time.
For Carolina, Sutter isn't someone they wanted to lose in a deal for Staal, but with the likes of Victor Rask and Zac Dalpe developing in the 'Canes system, it's not something that will cripple their future.
Then there's the fact that Ray Shero managed to add yet another top-10 pick to the Pens' system, selecting Derrick Pouliot. Pouliot was a defenseman with the Portland Winterhawks in the WHL, and was taken with the eighth overall draft choice acquired from Carolina.
While he may have been the 12th ranked skater in the final central scouting rankings among North American skaters, Pouliot has had an incredible past two seasons in junior hockey, collecting 89 points in 138 regular season games from the blue line, while posting a combined player rating of plus-28.
What makes those stats more impressive is that he did those things as a 16-18-year-old.
In addition to Brian Dumoulin, who had a fine season playing for Boston college in 2011-12, Pouliot will only add to Pittsburgh's deep pool of defensive prospects, already consisting of Simon Despres and Joe Morrow.
As for Carolina, the damage wasn't too bad, but you have to think GM Jim Rutherford could have come away from this trade not having to deal Dumoulin, or perhaps he could've packaged another prospect instead of Sutter for a player that he knew Ray Shero would have to deal within the next year.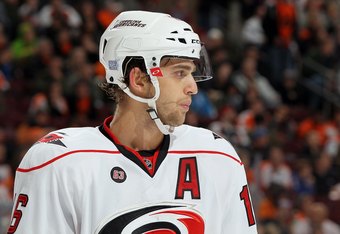 Jim McIsaac/Getty Images
It appears Rutherford was determined to land Staal, no matter what the potential price may have been.
Who can blame him? We are talking about a third-line center who constantly posts positive player ratings and can put up 50 points in less ice time than most second line centers.
Do you agree or disagree that the Pittsburgh Penguins emerged as the winners of the Jordan Staal trade? Sound off in the comments section below!