NHL Draft 2012: Why Jordan Staal Trade Was Like Mike Richards Trade
June 23, 2012

Bruce Bennett/Getty Images
Jordan Staal and Mike Richards may draw a lot of comparisons after last night.
June 23rd, 2011, then a member of the Philadelphia Flyers, Mike Richards, along with prospect Rob Bordson, was traded to Los Angeles for Brayden Schenn, and the Los Angeles Kings' second round pick in 2012.
Last night (and almost a full year to the day of the Richards trade), Jordan Staal was traded to the Carolina Hurricanes for Carolina's eighth overall selection in the first round, Brandon Sutter and prospect Brian Dumoulin.
But aside from these trades being conducted in the days and hours leading up to their respective drafts, why are these two trades alike?
Both Players Show Up to Play When it Counts
Needless to say, these trades were blockbusters. But if Mike Richards and Jordan Staal hadn't been high-quality players, these trades wouldn't have been as well remembered.
Now to set the record straight, Mike Richards and Jordan Staal aren't going to be winning Hart Trophies any time soon, but both players show up where it counts: the playoffs.
Mike Richards put up just 44 points in 74 games this season. This was his lowest points-per-game total of his career. But when put in perspective, prior to the Kings' acquisition of Jeff Carter, the Kings flat out couldn't score goals. The Kings finished the regular season ranked second to last in goals scored, averaging 2.29 goals per game.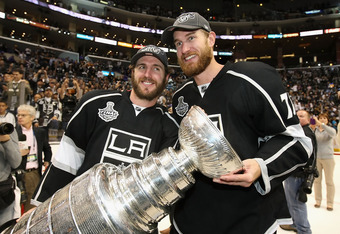 Christian Petersen/Getty Images
But the Kings won the Stanley Cup this season, and they boosted their goals-per-game total to 2.85 in the playoffs. Richards put up 15 points in 20 games on the second line.
Jordan Staal put up 25 goals and 25 assists this season, playing the last couple months of the season as the third-line center after Sidney Crosby returned from his "post-concussion syndrome" injury.
But the former 2006 second overall pick saved his best performance for the playoffs, where he put up six goals and nine points in six games in a high-scoring series with the Philadelphia Flyers.
The Flyers would eliminate their in-state rivals in six games.
Both Players Needed to Be Moved for Their Organizations to Move Forward
I might spark some disagreement by saying that both Richards and Staal needed to be moved, but this was definitely the case, and I will explain why.
Mike Richards came within two wins of winning the Stanley Cup in 2010 with the Flyers and the next season, the Flyers would be swept in the second round of the playoffs by the Boston Bruins. Things clearly weren't working and changes had to be made.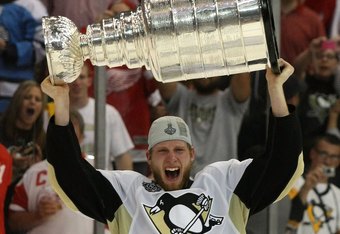 Bruce Bennett/Getty Images
Richards was shipped out to Los Angeles and teammate Jeff Carter was shipped to Columbus. That cleared (per CapGeek.com) just over $11 million in cap space. Richards was "shocked" but "excited" as well.
Los Angeles had made the playoffs the previous two seasons, but they had not made it past the first round since beating the Detroit Red Wings in 2001.
The rest (for Richards), as they say, was history. The Kings won the Cup, and Richards was reunited with his Flyers teammate, Jeff Carter.
For the Penguins' Jordan Staal, the future in Carolina is not looking so bright as of yet.
After turning down a reported 10-year extension to stay in Pittsburgh (essentially guaranteeing that he would be playing third-line center behind Crosby and Malkin), Staal was traded to Carolina.
Since their 2006 Stanley Cup, the Hurricanes have qualified for the playoffs just once in the past six seasons. They were swept in the 2009 Eastern Conference finals by the eventual Stanley Cup champion Pittsburgh Penguins.
Jordan Staal joins his brother, Eric, and the expectation is that they will play second- and first-line center, respectively.
Will Jordan Staal be able to help his brother take the Hurricanes back to the playoffs?
That is a question for another day, but the comparisons of the Richards trade and Staal trade will remain for quite some time.
For more article updates, follow @isaacesmith91