Euro 2012 Bracket: Contenders with Easiest Road to Finals
June 23, 2012

Shaun Botterill/Getty Images
The Euro 2012 has been nothing short of exciting and with quarterfinal play already underway, countries are one step closer to reaching the finals. 
There are six teams remaining, with Germany knocking out Greece and Portugal defeating Czech Republic in quarterfinal play. With Germany and Portugal already punching a ticket to the semifinals, which teams left have the easiest road to the finals? Which team is a favorite to not only reach the finals, but win it as well?
Germany
The only team to win all three games in the group stages, Germany is not only the favorite to reach the finals, but to win it as well. Germany is already in the semifinals, defeating Greece 4-2 yesterday with ease.
In their quarterfinal match, Germany showed domination, and that's what makes me believe they are the team to beat in this tournament. Germany will wait for the winner of the Italy and England matchup, who will play tomorrow (June 24). Regardless of the winner, Germany will have the easiest road to the finals.
Italy is not that strong of a team, picking up just one win in the group stage. England is a solid team but is not capable of beating Germany if they defeat Italy. What also makes Germany's journey to the finals easier it the fact that the next two strongest teams in the tournament, Spain and Portugal, are on the other side of the bracket.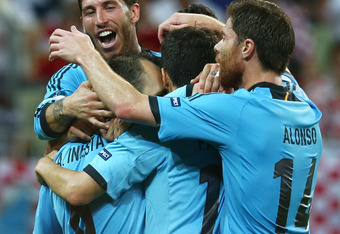 Alex Grimm/Getty Images
The undefeated German team has dominated Euro 2012, and have been rewarded with a potentially easy semifinal game, making them even bigger favorites to win the whole thing. 
Spain
A tough decision between Spain or Portugal, as Spain still has one of the most talented squads. Struggling in their first game in the group stages, they bounced back from a tie against Italy and beat Ireland and Croatia. Playing in their quarterfinal game today, they face a France team that has not played that well in this tournament.
After their quarterfinal game, they will play a strong Portugal team in the semifinal game. While Portugal has played very well with Christiano Ronaldo having scored three goals, Spain's system of passing and patience just wins games for this squad.
Don't forget they won Euro 2008 and the 2010 World Cup.
While this is Euro 2012, their past wins have to be accounted for, as some of their players a part of those former squads. While Portugal has made some of their games look easy, Spain will be a difficult test for them and Spain has a great chance of coming out on top.
Germany and Spain are the top two teams to beat in the tournament, and they also happen to have the easiest road to the finals.