NHL Draft 2012 Results: Hurricanes Hurt Their Future with Jordan Staal Trade
June 23, 2012

Paul Bereswill/Getty Images
The Carolina Hurricanes overpaid to acquire Pittsburgh Penguins star center Jordan Staal on Day 1 of the 2012 NHL draft, and it's a poor trade that will negatively impact them into the future.
Hurricanes general manager Jim Rutherford gave up a top center prospect in Brandon Sutter, a young prospect in Brian Dumoulin and the No. 8 overall pick in the draft for Staal.
I wrote on Tuesday that the Hurricanes would be unwise to overpay for Staal. But they clearly wanted to bring him to the team now and not down the road at the trade deadline or in free agency.
Sutter scored 29 points two years ago and improved to 32 points this past season. He also hasn't missed a game over the last two years, which proves he's a durable player. And with more talent around him in Pittsburgh than he had in Carolina, Sutter's offensive production should continue to improve.
The Hurricanes have upgraded at center by giving up Sutter for Staal, but the improvement isn't a drastic one. Staal is one of the game's best defensive forwards, but his offensive production isn't anything to brag about. Playing with his brother Eric on Carolina isn't going to make his point total improve by a large amount.
Giving up the No. 8 pick in the draft, which the Hurricanes could have used to select a top defenseman that they desperately needed, was also missed opportunity.
However, the worst part of this trade is that Carolina has given up a lot of value for Staal when they could have signed him as an unrestricted free agent next summer and not had to give up anything for him.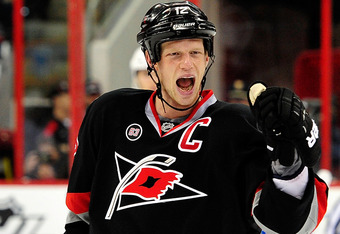 Grant Halverson/Getty Images
When Staal reportedly rejected down a 10-year deal from the Penguins prior to the draft, the Hurricanes should have realized that they'd likely have a strong chance of signing him as a free agent. Giving up Sutter and the No. 8 pick was a bad idea when they could have kept these assets and signed Staal next year.
Staal won't be much better in Carolina than he was in Pittsburgh, but the Hurricanes still decided to give up a lot to get him. These are the kinds of moves that hurt your ability to be competitive long-term.
Unless the Hurricanes can sign an elite player in a weak free-agent market, this trade will damage the team's ability to be a playoff contender going forward.