Boston Red Sox: Will Middlebrooks and the Kids Are Alright
June 23, 2012
Winslow Townson/Getty Images
I know the Boston Red Sox lost their series opener against the Atlanta Braves, but I can't lie to you. When I saw that the lineup featured Daniel Nava, Ryan Kalish and Will Middlebrooks, I was very intrigued.
It was nice to see Adrian Gonzalez back at first base with Cody Ross in right field.
Of course, the only tragedy of the night was that Atlanta's Jair Jurrjens threw a three-hit gem of a game to stifle the Red Sox bats.
That said, two of the Red Sox's three hits came off the bats of Nava and Middlebrooks in the eighth inning. Both ripped off solid doubles, first Middlebrooks, then Nava to drive him in.
That was pretty much all the offense from Boston for the night.
However, watching the youth play, I am inspired to think of what this team could look like in the coming years. The reality is, Carl Crawford will be the left fielder for the foreseeable future, assuming he can come back at contribute at all.
Jacoby Ellsbury will be leaving Boston.
Let that sink in for all of the pink hats.
Ellsbury is a Scott Boras client, and he's had his share of adversity in Boston. When he hits the open market, someone is going to pay big money for his services, and it won't be Boston. Why should they? They have Kalish, who can play center just fine.
As much as Ross is liked by Boston fans, odds are he is a one-and-done type of player in town. He'll get another contract at the end of the season, providing he isn't traded before then. Having a young trio of outfielders anchored by Kalish, Nava and Ryan Sweeny is not a bad thing.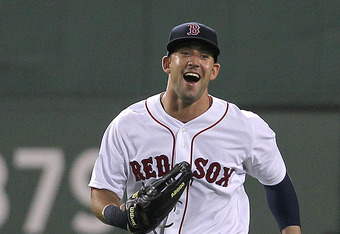 Jim Rogash/Getty Images
Then there is Will Middlebrooks, who has been long deserving of the starting gig at third base. Now, he finally has it.
This Red Sox team is a team in transition. That transition is an extremely bright one. Combined, Middlebrooks, Sweeney, Nava and Kalish are batting .303 for the Red Sox.
Though they're young, the team has a lot of talent. As the trade deadline approaches, it would be awful to see any of these young players get moved unless it was an absolute blockbuster of a deal.
General manager Ben Cherington missed his opportunity to start the rebuilding process during the winter time. He should have dealt Ellsbury and possibly even polarizing ace Josh Beckett when they had high trade values.
Instead, the team is held back in what moves they can make. 
That said, one thing is for sure: while they're still around, I'll enjoy watching the kids take the field, and the kids are alright.