Chicago Blackhawks: Latest Trade Rumors, Free Agent News, Post-Draft Buzz
June 24, 2012

Jamie Sabau/Getty Images
So the 2012 NHL draft has come and gone with some picks to talk about, and no moves yet from the Chicago Blackhawks in the trade market. Well, they did trade a pick for a pick, but nothing thus far of major significance.
Draft Review
When reviewing the draft, I too am guilty of looking way to deeply into this. If you read my piece of on Teuvo Teravainen, I did just that. Yes, I wanted Olli Maata, but why exactly? Because currently, the 'Hawks are bleeding in their own zone and I thought this kid could help.
But the 'Hawks can and will look very different by the time any of these kids are ready for the big time.
The truth is, we have no idea how these players are going to pan out. They are kids, mind you; teenagers who love to play the game. There are still a number of picks from the 'Hawks previous five drafts that we know little to nothing about and some are still in the system.
We all love to think that we know exactly what we got in any draft year, but did anyone know a thing about 2011 fifth-round pick Andrew Shaw before he joined the club in February? No, not a clue, and he was a monster for the second half of the 2011-12 campaign.
Who could have predicted that a year ago? Very few.
So we should now be bugged that Stan Bowman made a quick deal giving him two seventh-round picks with which he selected two netminders, Brandon Whitney and Matt Tomkins? Why did he wait so long to address a position of need?
Maybe it's because adding these two goalies now gives the 'Hawks five goalie selections in the last three drafts. So yes, Bowman and company know that the future of this position is critical.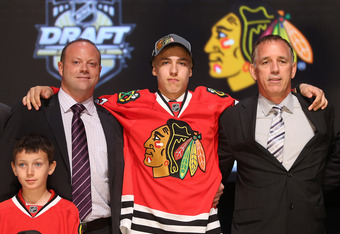 Bruce Bennett/Getty Images
In the 2011 draft the 'Hawks had two first-round picks, two second-round picks and two third-round picks. Perhaps that's why this draft seemed thin, which it was not. And of those first-, second- and third-round picks from last year's draft only one, Brandon Saad, may be a regular fixture next season. And that is not even a certainty.
The only pick I have seen play live is Chris Calnan from Nobles. He's a darn fine hockey player, but he's not going to be NHL-ready for a quite a while. Calnan is one of three players drafted from Nobles and will be a great college hockey player, but not even that guarantees NHL success.
Next season, Calnan will either play his senior year at Nobles, or play a year of junior hockey in the EJHL or the USHL before enrolling at Boston College in the fall of 2013. So that means it will be somewhere in the three- to five-year range before he is competing for an NHL spot.
So for now, and as much as I don't like saying this, let's keep the faith in our general manager and hope that he knows what he's doing. 
There is a lot to like with prospects Dillion Fournier, Garrett Ross and Travis Brown. Let's be patient, and see how they develop.
And as far as Teuvo Teravainen goes? This is a guy who a lot of people thought would go in the top 10, and he fell to No. 18. That does not happen too often. My knee-jerk reaction Friday night was a bit premature, to say the least. He is skilled and in a a couple of years could be an incredible talent to have on the roster.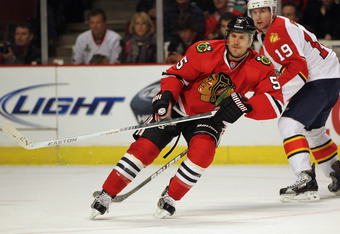 Jonathan Daniel/Getty Images
Trade Rumors
Though it did not happen on either day of the draft, Chicago Sun-Times reporter Adam Jahns has indicated that both Niklaus Hjalmarssona and Steve Montador are on the block.
The Hjalmarsson move has been talked about extensively, and while it didn't happen at the draft, it more than likely could happen before July 1. 
He may already be a bit overpriced at $3.5 million a year for the next two years, and although a big part of trading Hjalmarsson is to free up cap space, he is quality enough to get someone useful in return. Hopefully that will be someone up front.
I would say there is a 75 percent chance that you will see Hjalmarsson traded this week. And he may not be traveling alone. Viktor Stalberg or Bryan Bickell could be packaged with him.
As far as Montador goes, Bowman may have to pull a rabbit out of a hat to move him and get anything of value in return. Montador's cap hit is $2.75 million a year for the next three years. Though Bowman claims both Montador and Marian Hossa are getting healthy, the salary and the injury history will make Montador tough to move.
If I were a general manager at another NHL club, I wouldn't go near Montador or his contract right now. I wish Bowman all the best with that one.
Free Agency
As I mentioned at the end of last week, there are some solid free agents on the market who are not necessarily big-splash players. The 'Hawks will need to improve in a lot of different areas whether they target a big market player or not. Bowman will be active in this, that much I know.
But let's talk about the big splash that is Ryan Suter. Both he and Zach Parise are the talk of this year's free-agent class, but if the 'Hawks are to get one of the two, Suter makes the most sense.
If Hjalmarsson gets moved the right way, then the 'Hawks, with a league-wide cap increase, will have the chips to take a run at the Madison, Wisconsin native.
Does Suter want to play closer to home? One would hope, and it only helps that his uncle, Gary Suter, had a positive experience in the Indian head sweater.
Everyone wants a piece of Suter, but expect the 'Hawks to be part of that action as well.
That's all for now. Thanks for reading.