2012 NBA Playoffs: Was It in the NBA's Best Interest for LeBron to Win?
June 24, 2012

Ronald Martinez/Getty Images
In a way, LeBron James' journey to his first NBA Championship was fable-like—filled with adversity, affliction and that all important lesson. But unlike the typical fable, I'm not so certain we all wanted the pleasant ending.
It all started when he entered the league as the top prospect of his class at the ripe old age of 18—being heralded as the next great player of our generation. If that wasn't enough, he so humbly proclaimed himself as the Chosen One—King James.  And for the most part, he lived up to the expectations bestowed upon him.
We watched in amazement, marveling at his unparalleled gifts—completely and utterly entranced by the dominance he effortlessly displayed.
We were all witnesses.
But then "The Decision" happened.
Sure—the proceeds went to the Boys & Girls Club, but that was probably the only benefit that came of the most arrogant, narcissistic hour of not only LeBron James' career but in sports history.
I mean seriously—who does that?
As we all know, the media wasn't kind to LeBron once he took his talents to South Beach. People didn't hesitate to voice their disgust regarding his handling of the decision to leave Cleveland, but more importantly, they didn't hesitate to question the quality of his character.
LeBron James himself admitted that the media had gotten to him and ultimately changed the way he approached the game. They forced upon him a feeling that was quite foreign—the feeling of having to prove something.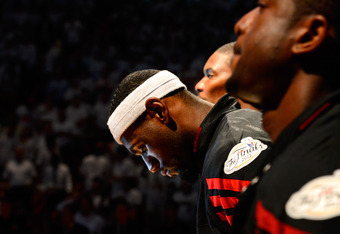 Ronald Martinez/Getty Images
They successfully turned him into public enemy No. 1—analyzing his every move and scrutinizing every blunder, to the point where it wasn't just about basketball.  The criticism had spilled over into his personal life. 
If that wasn't enough, his underwhelming performance in the 2011 NBA Finals only added fuel to the fire.
Not only did he come up short in consecutive fourth quarters of the Finals but after being favored to win, he looked absolutely foolish for predicting "not one, not two, not three, not four…" during his introduction to the Heat.
At that moment, LeBron James had reached the low point of his career. His loss to Dallas gave sweet satisfaction to some and more ammunition to others.
But that's what makes his triumph against the Thunder such a gratifying story.
It's the idea that an icon like LeBron James can make a mistake and be given a second chance—an opportunity to repair his image and regain the respect of fans worldwide.
It's the idea that even the greatest of us at some point will run into crossroads, suffer through trial and tribulation, maybe even hit rock bottom—at which point we're forced to dig deep within, in search of that motivation to keep putting one foot, in front of the other.
But as the old cliché goes, it's not about how you start—it's how you finish.
Don't get me wrong—LeBron James' career is far from over, but this title puts an end to the question marks regarding his greatness and silences for all the critics who doubted.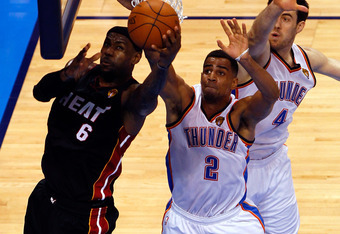 Mike Ehrmann/Getty Images
The media will have no choice but to congratulate him, move on and wait for the next compelling story.
But therein lays the problem.
Who is the next big story?
What are we supposed to look forward to next season?
Of course the leading headline will be whether or not LeBron and the Heat can repeat as champions, but that's boring compared to what we've experienced in the last two seasons.
It's nothing like waiting to see how much blame LeBron would have received had the Heat failed to close the deal.
See—now that's intriguing.
Regardless of your sentiments about LeBron James and/or the way the media portrayed him, you couldn't help but pay attention to the noise.
Whether it was about his disappearing act in the finals, how he embraced Tim Tebow, how he rode a bike to a home game or just him as a person, we were sucked in.
It was too captivating.
From a financial standpoint, the NBA benefited from it tremendously. After all, it is a brand—higher ratings translate into higher jersey sales. Higher jersey sales means more money.
It seems cruel, but we as sports fans along with the media love to hate the villain—in this case: LeBron James. We want to see them fail and miserably at that. We poke and prod, hoping to provoke an emotional reaction that will lead them to say something unintelligent, playing right into our hands.
It's a part of the culture of sports that we need—we crave.
But now that LeBron has finally captured that elusive piece missing from his distinguished resume, it's only right that we end our self-satisfying battle with him.
We too must move on.