Miami Heat: How Pat Riley Looks to Build on NBA Championship
June 24, 2012

Mike Ehrmann/Getty Images
Pat Riley, the manufacturer of this year's NBA champion, Miami Heat, was already thinking about the future when—in the midst of confetti and the bumping bass of American Airlines Arena—he said, "Now we grow. Now we evolve. Now comes the fun..."
He could not have illustrated it better.
With the NBA free-agency chatter getting frenzied already, the front office of South Beach has to already concern itself with improving the roster so as to mimic the outcome of this season—in other words, to devise a plan to bring in a center better than Joel Anthony or Ronny Turiaf (harder than it sounds).
The Heat's financial team only has so much spending room, but it has another tool of free-agent recruitment:
Winning. 
What NBA veteran in the declining segment of his career wouldn't want to trot the tunnel with LeBron James, Chris Bosh, and Dwyane Wade en route to the hardwood? Plenty of names have been tossed around by the national media, including Ray Allen, Jermaine O'Neal, two-time MVP Steve Nash and a currently unemployed Brandon Roy, just to name a few.
In reality, these men wouldn't mesh well with the basketball personalities on the Heat.
While imaginary lob passes from Nash in an imaginary Heat jersey resulting in imaginary 720-windmill-tomahawk dunks sound fantastic, there's no way LeBron would sacrifice his power-point guard role for anyone. After being presented the Larry O'Brien Championship Trophy as a result of driving the show that is the Miami Heat, why would James relinquish the power that shipped him the 'ship?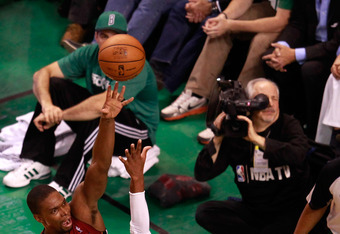 Jared Wickerham/Getty Images
As for Ray Allen, the veteran might be too reluctant to join a team that just a short time ago eliminated him and his Boston Celtics from the postseason.
Jermaine O'Neal? Can you spell injury?
And, Lord knows what Roy's capabilities are following his knee surgeries and basketball hiatus.
Some players that potentially could slide seamlessly into the depth chart include a former LeBron-hounding defender Mickael Pietrus, the seven-footer Chris Kaman of the New Orleans Hornets, Philadelphia big man Spencer Hawes and possibly Hawes' teammate Jodie Meeks.
Acquiring a wingman like Pietrus or Meeks would provide depth for a team that could be shedding Mike Miller.
After rumors circulated of Miller's possible retirement, Gregg Doyel of CBS Sports reported that the sharp-shooting forward has planned to meet with Heat ownership and management (including Riley) to discuss his future with the team.
Both Meeks and Pietrus are exceptional three-point gunslingers in their own right, but Pietrus would be an especially wise addition after displaying his defensive prowess on King James in the Eastern Conference finals, portraying himself as a somewhat more youthful Shane Battier.
Kaman and Hawes would also be serviceable options to replace Ronny Turiaf, Eddy Curry and Juwan Howard—all of whom are unrestricted free agents.
Kaman has the better stat line with 13.1 PPG, 7.7 RPG and 1.6 BPG. He would anchor the paint in a zone defense and push Bosh more towards the perimeter, increasing the accessibility of his superb pick-and-roll defense. Yet, Kaman has been known for a not-so-hot health history: He missed a substantial chunk of this season with a bruised left tibia.
Spencer Hawes' offensive averages aren't as flattering as Kaman's, but his knack for interior passing is an attribute not often highlighted in the box score. Tacking on another able passer alongside James, Wade and Bosh would spur frighteningly good ball movement—a solid remedy against the most stifling of defenses.       
But at the end of the day, the Heat only have so much capital to distribute. 
It is already known that a pay cut will be necessary from any player who chooses to sign with the 'Hollywood as Hell' roster. More specifically, a veteran will have to most likely sign for the mid-level exception, which equates to $5 million dollars annually for up to four years.  
But, if that's what it takes to get, not one, not two, not three...so be it.