Dale Earnhardt Jr.: Why NASCAR Star Looks Poised to Take Things over
June 25, 2012

John Harrelson/Getty Images
After taking a look at one side of the coin and trying to see why Dale Jr. would never win again, I was proven wrong a week later when Junior won at Michigan.
Now the question needs to be asked: With Dale Jr. breaking his long winless streak, could he be ready to finish out this year as the champion?
If Junior was ever going to take things over, now would be the time.
Major Improvement
Last season was a clear example that Dale Jr. was moving in the right direction as far as progress is concerned.
After finishing 21st in the 2010 season, the switch to crew chief Steve Letarte and the restructuring of Dale's pit crew would prove to have a major effect on the NASCAR driver.
Moving into the 2011 season, Junior finished 7th in points with four top 5 finishes, 12 top 10 finishes, and an average finish of 14.5
Fast forward to this season and Earnhardt Jr. has had five top 5 finishes and of course, a first place finish at Michigan International Speedway.
Dale Jr. currently sits third in the standings and is only 14 points behind point's leader Matt Kenseth.
Still, even with how well Junior has done so far, why is now the time for him to take over?  We could easily see a resurgence of Jimmie Johnson as he tries to climb back to his championship throne.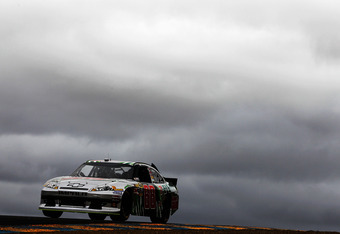 Tom Pennington/Getty Images
With such a major improvement in recent years, if Junior is ever going to take over as a champion, now would be the time.  Of course he would have to keep up with his solid performance so far this year, and he would also have to win more than one race, but now would be the best time for Dale Jr. to do that.
The Fans and Other Drivers
Having such a big fan base also helps Junior look like he is ready to take things over.  Fans not only want to see Junior win a race, they also want to see him win a championship.
And while you may or may not be a part of "Junior Nation," there is no denying that when Dale Jr. wins a lot of fans love it.
A good majority of NASCAR fans have been waiting for Junior to take things over.  With this recent win, and with some solid performances so far this year, now seems to be the best time for Junior to deliver.
Junior doesn't have just the fans rallying behind him though, he also has the support of some of his fellow drivers. 
After Junior won at Michigan, fellow teammate Jimmie Johnson had this to say over at NASCAR.com:
"This is so great. I'm just proud of Junior. He's been chipping away at it for a while -- especially this year. The communication and the camaraderie between he and Stevie and throughout our shop, I should say, has been amazing. Internally, we've seen this coming. I'm just happy for him to get this off his back now."
With both fans and drivers standing behind him, now is the time for Junior to really take things over.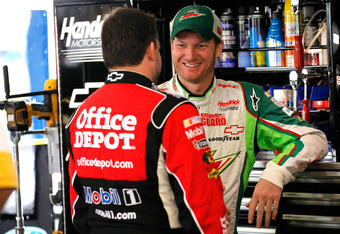 Tom Pennington/Getty Images
New Attitude
Another big reason why Dale Jr. looks ready to take things over is his attitude.  While Sonoma may be one of his worst tracks, Junior had the right attitude when he went into Sonoma and was quoted over at NASCAR.com as saying:
"If for any reason we have some problems or trouble, we won't really dwell on it too much. But we'd like to have a good run. We come in here with a positive attitude. But we know the reality of the situation is I don't have a top-10 here. We'll just have to see what we can do. We'll just have to try our best."
This is just one example of how Junior now has the right attitude, and the attitude that he needs to have if he is going to be a champion.  Back in April, Dale Jr. stated that he was the best driver in the Hendrick group. That's no small feat considering two of his teammates are Jimmie Johnson and Jeff Gordon.
With this attitude though, Junior can concentrate on what he is good at and try to prove what he said back in April.
Consistency is Key
Could Earnhardt Jr. enter the chase by pulling off essentially what Tony Stewart did and come from the back to win the whole thing?  Of course he could. Any driver could.  It would just be extremely difficult.
The key then for Junior moving forward is how consistent he is.  If he can continue to maintain top 5 and top 10 finishes, and even pull off another win or two, Junior will have a much easier time when the chase starts.
Carl Edwards, for example, only had one win last season and was on top until the very end because of how consistent he was.  Junior could easily repeat what Edwards did last year.
Now it's time for Dale Jr. to take his shot at proving that he is championship material.