Chicago Cubs: Why Fans Must Temper Anthony Rizzo Expectations
June 25, 2012

With 23 home runs, 62 RBI, a slash line of .345/.408/.702 and an OPS of 1.110 in 69 games, it is no surprise that there is buzz around the impending call-up of Cubs top prospect, Anthony Rizzo.
Ever since Rizzo's acquisition by new President of Baseball Operations Theo Epstein and General Manager Jed Hoyer in January, the biggest question was when is he going to get called up?
This week, Cubs fans might finally get that answer.
With left-hander Johan Santana scheduled to pitch Monday night, Rizzo, according to most rumors, will likely make his debut Tuesday night when the Cubs face the New York Mets at home in Wrigley Field. 
This whole scenario seems very similar to last season.  Rizzo, while with the San Diego Padres Triple-A affiliate, was batting .365 with an OPS of 1.159 to go along with 16 home runs and 63 RBI in 52 games.
On June 9, 2011, Rizzo made his major league debut with the Padres, striking out in his first at-bat. Rizzo finished the game with a triple and run scored, but ultimately struggled to acclimate himself to big league pitching.  Rizzo was sent back to Triple-A on July 22 after batting just .143, with one home run and striking out 36 times in 98 at-bats. Rizzo was called up again in September, finishing the season with a .141 batting average.
Despite the MVP-like numbers Rizzo has put up in Triple-A Iowa this season, he has a long way to go before the coronation at 1060 W. Addison Street. Despite being a hyped call-up last season in San Diego, Rizzo is likely unaware of the immense fanfare he will get this week if he is indeed called up.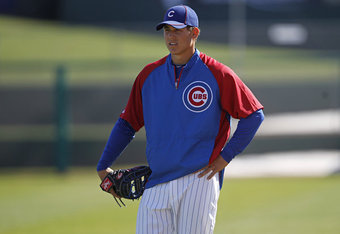 Not only have the Cubs fans been awaiting Rizzo's arrival, but so have the Cubs players.
Geovany Soto, who spent time at Triple-A Iowa with Rizzo while rehabbing a knee injury said, ''From what I saw down there, he was like a man playing among boys."
Bryan LaHair, who has moved from Rizzo's position of first base to right field this past week said, "I think everybody knows he's going to be here at some point. He's the No. 1 prospect in the organization. He's killing it, and he deserves to be here.''
Many fans expect Rizzo to continue his dominant ways once he steps foot on the Wrigley Field grass, but this is highly unlikely.  
If Rizzo can keep his strikeouts to a minimum, get on base, and show patience at the plate instead of letting the hype force him into swinging at bad pitches and always shooting for the fence, he will be taking steps in the right direction.
The hits to all sides of the field, the towering home runs, and the plate discipline will take some time, but if Cubs fans can be patient with Anthony Rizzo, there is no telling where he might take them.