Arsenal Transfer Rumors: Players Who Would Allow Gunners to Make Title Run
June 25, 2012

Bryn Lennon/Getty Images
After finishing third in the Premier League last season, Arsenal will be scouring the transfer period in order to push their squad back to the top.
The Gunners finished last season at a mundane 21-10-7, and with the future of Robin van Persie still uncertain, the club will be looking to make some moves.
Van Persie refused to sign a new contract that would have paid him £130,000-per-week, with a £5 million loyalty bonus, according to the Daily Mail.
He was a decisive figure for Arsenal last season, as he racked up 30 goals for the Gunners. Certainly they will do their best to bring him back, but there are a few players they could target to bolster their squad.
Yann M'Vila
After Bayern Munich pulled out of the race for M'Vila's services, signs point towards him signing with Arsenal.
M'Vila could be a godsend for the Gunners as he would certainly bolster their passing attack as well as their defensive front.
As he proved at Euro 2012, while playing for France, M'Vila has the ability to play alongside some of the premier offensive threats in the game, such as Xavi and Cesc Fabregas.
M'Vila is a skilled passer who has a good eye while on the pitch. He is able to shred defenses with through balls and is able to go over the top on numerous occasions.
He also stays away from gambling outside his position, which should be a welcome sight for Arsenal fans.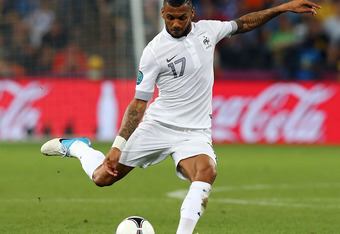 Martin Rose/Getty Images
His biggest weakness is a sense of urgency when defending, since he seems pedestrian when the opposition goes on the attack. With more awareness, M'Vila could certainly flourish in Arsenal's set, but at the price he is commanding, the Gunners will want a polished product.
M'Vila will reportedly cost £17.7 million, according to the Telegraph, which is a steep price for any player.
M'Vila can be a force for Arsenal, but it depends what they are getting exactly for £17.7 million.
Adrian Lopez
With van Persie's Arsenal career in question, the Gunners would be wise to pursue Lopez. According to the Spanish source AS, Arsenal has made a £10 million offer, but the Madrid Club is looking for around £14.5 million.
Alongside van Persie, only Theo Walcott netted more than six goals last season for Arsenal, and a move for Lopez could aid them with another offensive option.
However, with van Persie's future up in the air, it could be the end of Walcott's career at Arsenal as well.
Walcott apparently is waiting to see if van Persie will stay before making his own decision, according to The Sun.
With the futures of both of their top goal scorers in question, a move for Lopez would be wise for the Gunners.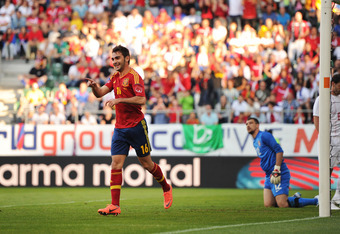 Jasper Juinen/Getty Images
Lopez scored 20 goals in all competitions a season ago, and with Lukas Podolski and Oliver Giroud set to join the North London club, the three could make quite the three-man strike force.
If both of their elite goal scorers do in fact leave the club, it may be time for Arsenal to throw some money towards Lopez.
Jan Vertonghen
Although his deal with Tottenham is close to being finished, the two sides have hit a snag in their negotiations.
Vertonghen is entitled to a 15 percent cut of any transfer fee, but Ajax will not pay him his cut, according to the Dutch newspaper De Telegraaf.
With the deal in question, the iron is hot for Arsenal to swoop in and pick up the midfielder, who would bolster their defense.
Arsenal has the luxury of being able to spend money and could perhaps lure Vertonghen away with the possibility of greener pastures.
Although he said he wanted to play for Tottenham, he also said a move to Arsenal could happen if talks fell through, according to the Daily Mail.
With contract concerns looming, Arsenal would be wise to make a push for his services.
Vertonghen is a versatile defensive midfielder who would give the Gunners the balance necessary to compete for a title immediately. He is able to attack from his position, and that could give Arsene Wenger a boost of versatility.