Victor Ortiz: Did His Jaw or His Heart Give out First?
June 25, 2012

Jeff Gross/Getty Images
If we see Victor Ortiz on another major fight card in the next few years, might I offer one small recommendation.
Whatever you do, Vic, don't take any bout that requires you to fight at the Staples Center.
After having both his jaw and his reputation shattered yet again by journeyman Josesito Lopez Saturday night in L.A., Ortiz has now been involved in back-to-back fights which ended on strange circumstances. He tried to kiss Floyd Mayweather after headbutting him in their September 2011 fight, only to end up kissing the canvas instead.
Now for the second time in his eight-year career, Ortiz quit in a fight he could've won, and that got the pundits questioning his heart. SkySportsOne's Jim Watt said after the stoppage was announced, "He's just thrown away his career!"
Back in 2009, Ortiz stunned the masses by quitting in another action fight against Argentinian blockbuster Marcos Maidana. After knocking Maidana down and being knocked down twice himself in that fight, Ortiz called it off during round 6, leaving HBO's Max Kellerman to be among the first to question if he had the heart needed to be either a champion or a great fighter.
But before we further break this young man down, allow me to play devil's advocate for a moment and throw a little realism on this situation.
I once had the good fortune of avoiding my jaw being broken. At some point during the fight, and accounts vary on the exact moment when, Josesito Lopez cracked Ortiz's mouth with a punch that broke it. There is no dispute of this, and seeing how Ortiz was spitting out a river of blood after it was called off and could barely speak to Showtime's Jim Gray in the ring, I highly doubt anyone say he was faking or making a cheap excuse.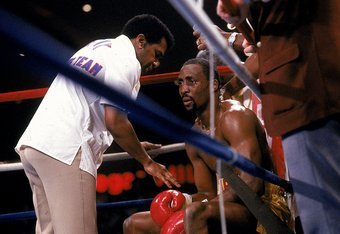 Holly Stein/Getty Images
In a sport defined by the strength of a guy's chin, I can't imagine how painful it is to continue to get hit in an area where a bone is already broken. Pundits pointed out that Ken Norton broke Muhammad Ali's jaw in the first round of their first fight, yet Ali went the 15 round distance.
Ortiz is no Ali, and any attempted comparison is brutally unfair. Fighters often continue fighting on to their own detriment, when even common sense dictates they should stop. No one gave Tommy Hearns any grief for fighting on despite breaking his vaunted right hand in round one of his epic fight with Marvelous Marvin Hagler in 1985. Had he stopped after that legendary first round, though, I wonder if history would view him differently. 
Also, even though it was deemed a major upset victory for Lopez, he wasn't coming into the fight as the proverbial "tomato can" fighter either. At 29-4 with 18 KO's, Lopez was far from Andre Berto, but he also had the air of a solid journeyman fighter on his resume. If there was a "big fight" that had defined the 27-year-old going into the Ortiz fight, it was his split decision loss to undefeated up-and-comer Jesse Vargas, ironically, on the Ortiz-Mayweather undercard.
Stepping in after Berto failed a drug test, no one gave Lopez a realistic chance against the whirling dervish that was Victor Ortiz. But the expectation was that it wouldn't be a boring fight, and it most certainly was not.
Once again, Ortiz's aggressiveness got the better of him in round five, clearly hitting Lopez behind the head, but escaped what should've been a one-point deduction by referee Jack Reiss. Lopez was given five minutes to recover, and when he did, continued to pepper Ortiz with left hooks and uppercuts to the jaw.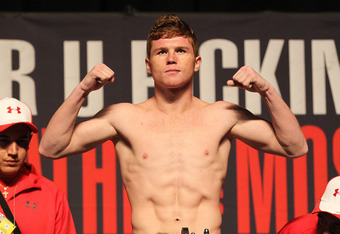 Jed Jacobsohn/Getty Images
That is one part of Ortiz's game that he really needs to work on before he gets another big draw. Boxing is dangerous enough without a fighter who has his power unable to control himself enough to not land illegal punches. It got him in trouble with Mayweather and it's been a constant of his career. He's notorious for hitting behind the head in clinches and when in-fighting.
I don't think this makes him a "dirty" fighter so much as it makes him easily undisciplined in the heat of the action. Having covered basketball and other team sports, I've seen firsthand what happens if an opposing team gets in your head and forces you to lose focus. Boxing is so reliant on mental focus, especially since your opponent is trying to separate you from consciousness. That being seen as a potential wild card not only threatens credibility, it also threatens the marketability of a fighter in a sport where it all depends on how you can be sold to the paying crowd.
Of course, the planned money card between Ortiz and Saul "Canelo" Alvarez went up in flames following Saturday night's upset, and with the amount of time it will take his jaw to heal, we probably won't see him fight again in 2012.
Victor Ortiz still has a lot of good years ahead of him, but now he finds himself at a crossroads in his career. Either he needs to become a more refined as a fighter, or figure out a way to better harness the ferocity he uses in the ring so his critics won't question his toughness or his tactics ever again.