College World Series 2012 Finals: South Carolina Offense Thwarted by Arizona
June 26, 2012

Harry How/Getty Images
South Carolina failed to win their third straight College World Series title because of their offensive shortcomings. Arizona's pitching was dominant, and the Gamecock bats couldn't find any sort of rhythm in two games.
Game 1 ended 5-1. Game 2 ended 4-1. In two games, Ray Tanner's squad mustered nine hits and two runs. That wouldn't be enough to beat most teams, but it makes any effort against Arizona's stellar starting pitching completely futile.
Arizona manager Andy Lopez is known for the long innings his starting pitchers throw. If they start the game well, there's a good chance you will see them for at least seven innings. He doesn't overuse his arms, but he gets every ounce out of them.
The Gamecocks' pitching wasn't bad itself. Michael Roth had a solid performance in Game 2, but the bullpen couldn't close the game.
It was the opposite in Game 1. South Carolina gave up five runs before the sixth inning. By then, it was too late to recover, and they lost the game.
Their offense was never able to seize any sort of momentum.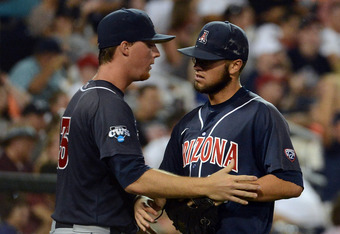 Harry How/Getty Images
Konner Wade was lights out in Game 1. His complete-game effort set the tone for Game 2, and James Farris didn't disappoint. The Wildcats were able to give their starting pitching enough run support, and their momentum carried them through the end of the game.
The Wildcats won both games with the same formula. They knocked in timely runs and pitched extremely well. It's the simplest way to win any baseball game.
South Carolina was trying to become the first team to win three straight titles since USC in the early 1970s. Instead, Arizona won their first championship since 1986.
Their pitching stymied South Carolina's hitting for two straight games, and that was all it took.