2012 NHL Draft Grades: Teams That Addressed Glaring Needs
June 26, 2012

Justin K. Aller/Getty Images
The 2012 NHL Draft was filled with fireworks. Some teams made the additions necessary for them to make a playoff run next season while other teams failed to address their team needs.
Taking care of needs now can save your team a lot of money in the future. Drafting young prospects and allowing them to develop in the minor leagues gives you a chance to reevaluate your current squad and figure out how those pieces will fit into the future.
Let's take a look at three teams that did exactly what they were supposed to do this year.
The Penguins used their blockbuster switch with Carolina to take Derrick Pouliot with the No. 8 pick. Ray Shero followed that pick by selecting Olli Maata later in the first round.
Both defenders fill a need for Pittsburgh. Their defense was exploited against Philadelphia in the playoffs last year, and these two will help that (eventually).
Pouliot is a puck-moving defenseman. He could be a major asset on future Penguin power plays, and he fits the Kris Letang mold.
Maata is more of a stay-at-home defender, but he can handle himself in the offensive zone. Like Pouliot, he is two or three years away from playing in the NHL, but the potential is there.
Pittsburgh plugged organizational holes throughout the draft but these two defenseman are impact picks.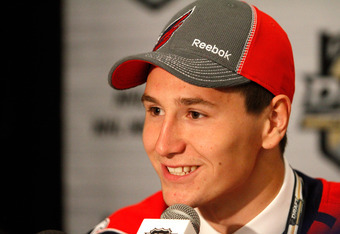 Justin K. Aller/Getty Images
Filip Forsberg was an absolute steal at No. 11, and Thomas Wilson was a solid addition later as well. Both will add more pop to the Capitals' attack.
Forsberg's stick-handling and puck control are made possible by his incredible quickness. He darts around the open ice, and Capitals' fans will love his knack for finding the net.
Wilson is a gritty, two-way player. He will excel in front of the net or on the penalty kill. Once he adjusts to the NHL game, his size will be an asset up front.
The Capitals were smart to add depth to their forward lines. Not only did they draft well, but landing Mike Ribiero is an impact addition.
Columbus Blue Jackets
This is only based on one pick in particular, but Ryan Murray will wind up being the best player from this draft class. He's an outstanding, two-way defenseman who's set for a long NHL career,
Murray's awareness and understanding of the game is fit for a 10-year NHL veteran. He's always aware of what's in front of him, and that makes him an asset on both ends of the ice.
He isn't blessed with otherworldly offensive ability, but he's more than capable. He can handle himself at the point, or he can "muck" things up down low.
The Blue Jackets needed depth across the board. If Edmonton had made the right choice at No. 1, Murray wouldn't even have been on the board with Columbus' No. 2 pick.
He isn't a flashy player, but Murray is the right choice. He'll plug a hole for a very long time.