Liverpool Transfer News: Analyzing Recent Reports Surrounding Reds
June 26, 2012

Mario Carlini / Iguana Press/Getty Images
Under new manager Brendan Rodgers, their fourth in three years, Liverpool have been feverishly exploring their options for possible transfers to bring in this summer. With midfielders Joe Cole, Alberto Aquilani and Maxi Rodriguez all possibly on their way out, an already-unspectacular midfield unit is sure to have a new face or two.
A hot target right now is Bologna midfielder Gastón Ramírez. A teammate of Reds striker Luis Suarez on the Uruguayan national team, Ramírez has a playmaking mentality and will be able to create opportunities up front with his patience and on-ball skills.
It looks like a bidding war might ensue for his services against Manchester City, but the Reds need a better attacking midfielder. Ramírez is only 21, so adding him could serve as a long-term upgrade as well.
Another possibility to inject some youth into the midfielder would be Swansea City's Scott Sinclair, a winger who Rodgers coached before his move to Anfield. Sinclair is on the rocks with Swansea over a new contract, and could possibly be available to add a goal-scoring dynamo to the Reds midfield.
In the back, it looks like Liverpool might unfortunately have to downgrade at the center defender spot. Daniel Agger could be leaving for Manchester City, and it appears like Joleon Lescott could come over from the reigning Premier League champions in a de-facto swap.
Lescott is a solid veteran, but Agger teamed with Martin Skrtel to make a duo to be reckoned on the Liverpool defensive side. Lescott appears to be on his way out at Man City, so he could be viable as a stopgap measure if Agger does leave.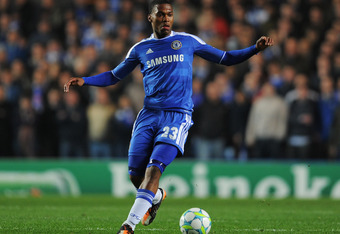 Michael Regan/Getty Images
After ending his tenure with Inter Milan by turning down a loan to another club in the Italian Serie A, the 19-year old striker Luc Castaignos is on the market. While his tabbing as a young Thierry Henry might be unmerited, he could be groomed to be a lethal striker down the line. His price tag is not hefty, so he could be worth a flier.
It is well-known that the Reds have been interested in Chelsea striker Daniel Sturridge, who wants out of a Blues club he believes is limiting his career. The issue is that Sturridge would prefer to stay in London and sign with Tottenham. However, the Spurs' are weary on paying Chelsea's asking price for the 22-year-old, which means Liverpool still has a chance if they are willing to invest a significant portion of their transfer budget into one player.
In the very unfortunate news department, after appearing to the favorites to sign midfielder and former Rodgers player Gylfi Sigurdsson for months, Tottenham stole the 22-year-old Iceland native over the weekend. The Spurs look to be close to making it official, and if they do it will be a shocking and crushing blow to the Reds.
Less shocking, but still disappointing, is the Reds' short-lived pursuit of young Colombian striker James Rodriguez. They outbid Manchester United over the weekend, but Man U stepped up their bid today and it looks like Liverpool is out of the running.
Finally, Italian striker Fabio Borini is not coming to England. Instead, the 21-year-old will be staying with Roma in Italy permanently, ending speculation that the Swansea product would join up with his former manager.
Transfer season is still young, so look for Rodgers and the Reds to continue looking for splashy moves in order to improve on a disappointing league season in which the club finished eighth, their worst finish in 18 years.