Chicago White Sox: Gavin Floyd Finding Right Pitches at the Right Time
June 27, 2012

Hannah Foslien/Getty Images
The Chicago White Sox have taken some hits to the starting rotation, specifically to veteran Gavin Floyd. With John Danks and Phillip Humber on the mend, someone needs to help support Jake Peavy and the kids now powering the White Sox on the mound.
Floyd's gem Tuesday in Minnesota continued a recent trend that suggests that a side session last week with pitching coach Don Cooper could make a difference in South Side fortunes.
Chicago withstood a ninth-inning rally to down the Twins 3-2, extending their lead in the AL Central to a game-and-a-half. Floyd was excellent, tossing a shutout for seven innings and striking out nine batters.
Floyd beat the Twins for the first time in nearly three years and posted a second straight impressive outing. Floyd was 1-4 with a 10.38 ERA in his six starts prior to his win June 20 over the Cubs. In his last two starts, he has not surrendered a run in 13.1 innings.
Cooper and Floyd may have hit the right button between a 5-3 loss to St. Louis June 14 and the Cub game. Cooper stressed mechanics and location when talking to WSCR-AM670's Mike Mulligan and Brian Hanley on his weekly appearance June 19.
In the midst of trying to explain Floyd's struggles, Cooper hit on the crux of a struggling pitcher's dilemma:
The difference between a good ball game and a horse-crap game could come down to three or four pitches. Do you make them at those specific times? If you do, you've got a chance to have a good game. If you don't, you're probably looking like you had a lemon.
Tuesday night, Floyd located pitches at key times and came out with a big win.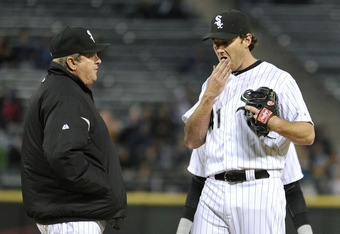 Brian Kersey/Getty Images
He stranded a runner on third with one out in the first. He got a groundout with runners on second and third in the second. With Ben Revere on second in the bottom of the third, he struck out Joe Mauer and Josh Willingham to end the threat.
Mauer reached second in the sixth, but again Floyd came up with the right pitch when needed. Floyd hit a batter but otherwise did not walk a Twin on the night.
Floyd's stuff is as good as any pitcher in the majors when he has command of it. Command has been his undoing throughout his career. He has responded well to Cooper's tweeks in the past, putting together some solid stretches while with the White Sox.
With Chicago relying on young arms like Chris Sale, Jose Quintana and Dylan Axelrod while Danks and Humber get healthy, an eight to 10-game surge from Floyd would be just what the doctor ordered. The key, as Cooper pointed out, is locating those key pitches throughout a ball game.
Hopefully, Floyd can come up big at those times as he has in his last two starts.