Dallas Cowboys: How Much Does Tony Romo Really Resemble Brett Favre?
June 27, 2012

Chris McGrath/Getty Images
Brett Favre revealed to Deion Sanders that he feels Tony Romo is "more like me" than any other quarterback. But it's extremely hard to find quarterbacks who resemble Favre, who was one of the most unique and daring signal callers in NFL history.
Thus, simply being more like him than any other active quarterback doesn't necessarily mean Romo is like Favre.
To fully grasp what connections Favre might be focusing on, here's the full transcript of what he told Sanders, via NFL.com:
Romo is probably more like me than any of those guys. I don't know if that's good, because I think way too much is cast upon him. Good or bad.

It's Dallas. And much is expected. But he's carried those guys, man. I mean, I'm watching last year, and I like Tony. And I like the way he plays. I think at times he's underrated. But I'm watching, and right before the snap, he's telling guys—and you've probably seen it, too—he's like...

How in the world are you gonna have a positive play when the ball's coming and you're telling guys (where to line up)? But he'll make something out of nothing.
Setting aside whether that implies that Favre felt too much was cast upon him, he is right about Romo having too much weight on his shoulders as a result of being America's Team's quarterback and being plagued by a misconception that he comes up lame in big moments. 
Favre obviously dealt with similarly high expectations for much of his career, but he won a championship early and was unanimously beloved in Wisconsin. The same cannot be said for Romo in North Texas, or anywhere, for that matter, outside of maybe Charleston, Ill., where he went to school.
Additionally, Romo can't shake the impression in some circles that he's somewhat aloof or dispassionate. Think: Cabo with Jessica Simpson, 2008. And he hasn't been especially prone to injury, but he certainly isn't an iron man. Favre, on the other hand, was viewed in the complete opposite light.
The on-field similarities are stronger.
Romo, like Favre, has the mentality of a gunslinger. Both stubbornly refuse to give up on plays more often than the majority of their peers, which has been beneficial when it comes to those improvisation skills that Favre alluded to when saying Romo often makes "something out of nothing."
But at the same time, it's that trait that has led to both making their share of bone-headed decisions. Each has had a few infamous moments. Favre had a series of what-the-hell interceptions in crucial postseason moments.
Romo had that horrendous performance against Favre's Vikings in the 2009 playoffs. He had the botched hold against Seattle in the 2006 playoffs. He had that epically bad second-half performance against the Lions this past season.
Those are just a few examples. 
It definitely seems as though Favre was absolved of his sins more often than Romo has been, and that probably has a lot to do with the Lombardi Trophy that has evaded Romo thus far. I think the perception that Favre was the quintessential American farm boy helped, too, while Romo has always been viewed as more of a playboy.
It's funny, though, because the statistics indicate that Romo is much smarter with the football than Favre ever was. Here's a taste: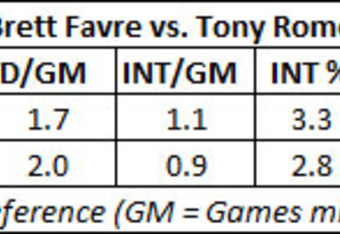 I'd like to get your thoughts on this. Is Romo similar to Favre, or merely the closest thing there is?
Can you think of another active quarterback who resembles No. 4 more closely than Romo does? What about Jay Cutler? Or Eli Manning? Or Philip Rivers? Those are the three quarterbacks not named Tony who I'd say share some traits with Favre.
Cast a vote in our poll, and get in on the discussion below.