US Olympic Swimming Trials: Athletes Who Miss Olympic Bid Thankful for Journey
June 27, 2012

Al Bello/Getty Images
Picture this: You are at the 2012 U.S. Olympic Trials and are eliminated by the likes of swim champions Michael Phelps or Ryan Lochte. They are going to the London Games and you are going home.
Yes, for every top finish by Missy Franklin or Allison Schmitt, there are far more Olympic hopefuls in Omaha on the other end of that qualification spectrum.
Yet, while a finish outside of the London-bound top three spots in some events—top two or four in others—may sound like a bitterly disappointing defeat at first, think again.
For many Trials athletes who fail to make the final cut, what follows is improbable joy.
After failing to make the semifinals in the women's 100-meter butterfly—thereby missing her second-straight Olympic Games after swimming for Team USA in 2004 Athens—Dana Kirk will be "leaving Omaha with good thoughts," telling the Kitsap Sun, "I'm satisfied. I'm happy," and saying that this year's mindset was all about having fun.
Kirk is hardly the only cut athlete who feels this way. After all, unless you happen to be a Phelps or a Gatlin, the odds are not in your favor.
Even two-time gold medal winner Amanda Beard put the trials in perspective: "I'm coming in here being super positive ... I won't be too devastated walking away, saying I competed at my fifth Olympic trials."
Beard missed the 100 breaststroke finals after finishing fifth in the semifinal.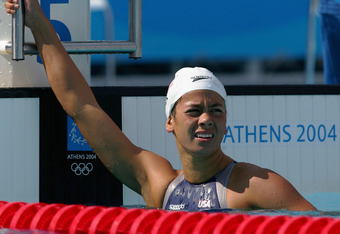 Donald Miralle/Getty Images
Of all swimmers who will compete in Omaha this week, just 2.7 percent—roughly 50 out of 1,850 athletes—will advance to the London Games.
It's all about attitude and frame of mind.
Shelby Webbers was the anti-Missy Franklin this year, finishing 153rd in the women's 100 backstroke:
It's still worth it, it's so cool. It's so much different than any other meet. It's so big—the lights, the music, all the stuff to do. It's only one event, but I had to come because I made it.
Meanwhile, 1998 Seoul veteran and four-time gold medalist Janet Evans came to the trials in search of fun: "Just to be here to enjoy it was very different emotionally for me."
Coach Mark Schubert agreed: "Project's over ... but boy has it been a blast."
On the men's side, Olympic hopeful Tim Squires and coach Vic Riggs agree the Trials are all about "embracing the moment." Riggs elaborated on the mindset: "They've already won by getting here, and now we want them to do the best they can and have fun with it."
As for Squires, he doesn't seem too concerned about making or missing the team: "I'm going in for the experience."
17-year-old swimmer Taylor Dale agrees, having been eliminated after his first-round attempt in the 100-meter backstroke: "It was pretty much about the experience and having a good time ... I'm pretty happy."
For John Hauser, the Olympic Trials will take on an added meaning. Houser will represent the University of Maryland during Saturday's 50 freestyle.
A bittersweet occasion because as Houser will enjoy the experience, the UM swim program is sadly closing: "It's nice to wear the [UM] cap at a meet like this and show them what we're capable of, to have people remember what we were."
Even high profile—albeit dry-land—athlete Bryan Clay found a silver lining in his shocking elimination from Team USA: "I am excited for what the future holds. Let me assure you that I intend to be the loudest and most fervent supporter of both [decathletes] Ashton Eaton and Trey Hardee."
In the end, it truly is all about perspective. Those who compete with a positive attitude leave with one even if they end up missing the cut.
The U.S. Olympic Trials are not the end-all, not by a long shot. They're a stepping stone along the way.