Jarrod Parker, Yoenis Cespedes Help A's Win Series over Seattle with 2-1 Victory
June 27, 2012

Otto Greule Jr/Getty Images
Much like the first game of this series, the Oakland Athletics did not do very much offensively for a long stretch of their matinee against the Seattle Mariners. But thanks to another great start, this one from Jarrod Parker, the A's won 2-1 to take the series at Safeco Field.
Parker got the win because Yoenis Cespedes hit a laser out into the left-center field seats in the seventh inning to break a 1-1 tie. His ninth home run, Cespedes' hit was one of only two that the A's had in the game, but they were both home runs.
Ryan Cook overcame an error and hit by pitch in the ninth to record his sixth save. 
For his part, Parker was fantastic. He went seven innings, allowing a single run on John Jaso's solo home run in the second inning and giving up only three hits while walking four. Parker also struck out nine hitters, frequently getting strikeouts on his darting change-up.
The offense staked him to a lead right away as Coco Crisp led the game off with a home run to right field that just got out, despite the attempts of Ichiro Suzuki. 
Seattle starter Kevin Millwood left the game early with a groin injury, but the A's offense was all but ineffective against relievers Hisashi Iwakuma, Brandon League and Lucas Luetge. Iwakuma's only mistake was a hanging slider that Cespedes bashed out. 
By contrast, Cook got himself into a little bit of trouble in the ninth. After retiring Jaso to start the inning, Justin Smoak's grounder was booted by Brandon Inge and the Mariners had a base runner. Cook then ran the count to 3-0 on Dustin Ackley, but he induced a foul-out to Seth Smith in left field foul territory for the second out. After hitting Brendan Ryan with a pitch, Cook struck out Ichiro on a foul tip to end the game.
The Good, the bad, and the ugly
The Good: Jarrod Parker
The kid is alright. Aside from Parker, Dwight Gooden (1984) is the only other pitcher to surrender one run or fewer in nine of his first 13 starts. That's pretty amazing company if you remember just how great Gooden was in his first three years. The trade of Trevor Cahill for Parker, Cowgill and Cook looks better and better with each passing start.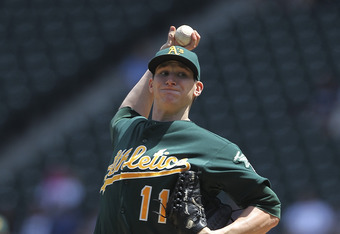 Otto Greule Jr/Getty Images
The Bad: Brandon Inge
Beyond the 0 for 3 with the two strikeouts, Inge's error in the ninth could have cost the A's. I think it was realistic to expect an upgrade and not an All-Star in Inge, but he is struggling right now. Let's hope he is able to bust out as the team heads to more friendly confines in Texas.
The Ugly: Anyone at bat not named Crisp or Cespedes
Wow...two hits? To win a game on two hits is hard to fathom, even if both hits were homers. But for whatever reason, Safeco Field is a house of horrors for the A's hitters. Thankfully, the team got brilliant pitching again.
But truthfully, the offense put them in a position where they could have been swept. To win on two runs from two home runs and a solo home run in the opener does not bode well. Here is hoping that it was just the venue and not the hitters.
With the win, the A's improved to 37-39 on the year. Now, they head south to Arlington for a crucial series with the first place Texas Rangers. Tyson Ross will take the bump against Texas starter Scott Feldman in the Thursday evening opener. First pitch is scheduled for 5:05 PM WST