2012 NBA Mock Draft: The Ultimate NBA Game of Roulette
June 28, 2012

Andy Lyons/Getty Images
#1: New Orleans Hornets – PF Anthony Davis, Kentucky
The Hornets magically won the lottery. The NBA owned them and had to sell them. Almost no one wanted to keep the team in New Orleans. Despite that, everything was standard procedure.
#2: Charlotte Bobcats – PF Thomas Robinson, Kansas
It's between him and Harrison Barnes for the Bobcats. Robinson is the right choice for Charlotte for a couple of reasons:
a)      Harrison Barnes can't create consistently for himself without great point guard play
b)      Bismack Biyombo. The Bobcats' young center will never develop an offensive game in the NBA. Defensively though, he flashed promise last year. As he continues to learn how to play, he could become one of the top paint defenders in the league. With Robinson at the four, the Bobcats can allow Biyombo to solely focus on the defensive end.
They could move back a couple spots and still get Robinson. It makes perfect basketball sense. I expect Michael Jordan to shoot another air ball from the front office.
#3: Washington Wizards – SG Bradley Beal, Florida
The Wizards need a shooter to help space the floor. They don't need Kidd-Gilchrist because they acquired Trevor Ariza, who plays the same sort of role and can knock down occasional 3's.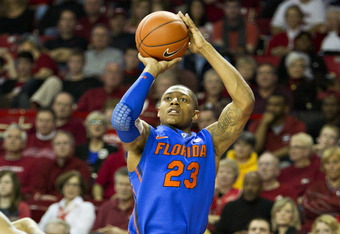 Wesley Hitt/Getty Images
Beal is a natural shooter who will show more ability in his rookie year then he was allowed to while at Florida. He's not just a shooter, but he will have to improve his dribble. His game is a great compliment to John Wall.
#4: Cleveland Cavaliers – SF Harrison Barnes, North Carolina
With a solid point guard who can deliver the ball in the right spots, Barnes can be very effective in the NBA. He's almost identical as a prospect to James Harden in that he could be the most talented player on your roster, but can't be the No.1 guy on your team. Harden would have struggled with any other team in the top 5 of the lottery besides the Thunder when he was taken. It was a great fit for him, and the results have shown. Harden also proved why talk of him being a franchise player was ludicrous in the NBA finals.
With Kyrie Irving running things, Barnes can provide an offensive spark and make defenses pay when they collapse on Irving's dribble penetration.
#5: Sacramento Kings – SF Michael Kidd-Gilchrist, Kentucky
MKG has the intangibles and defensive intensity sorely lacking on the current Kings roster. The inevitable trade of Tyreke Evans will open up a spot for him to get significant playing time.
The Kings have already turned down a deal with Houston to acquire Kyle Lowry and the 16th pick for Chuck Hayes and the 5th pick. To me, that's insane. Clearly the Kings feel there's a franchise player coming to them here. They better hit a home run here.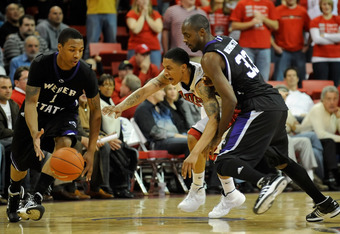 Ethan Miller/Getty Images
#6: Portland Blazers – PG Damian Lillard, Weber State
Look at their roster. They have a hole at PG the size of the Grand Canyon. Lillard killed his workout in Portland. Plus he's a better scorer than Kendall Marshall, making him a better fit in Portland.
This isn't set in stone. The Blazers are known for making more draft day moves than the New England Patriots. It would make sense for them to work out a deal with Houston for Kyle Lowry. Wesley Matthews is a player of value who could be traded back to Houston to work out the salaries.
#7: Golden State Warriors – C Andre Drummond, UConn
The Warriors want to trade this pick and have no need for another center. Someone will be willing to slide in and take the talented but severely underwhelming Drummond.
#8: Toronto Raptors – SG Dion Waiters, Syracuse
The Raptors will most likely draft a two so they can finally get DeMar DeRozan over to the three where he belongs.
Waiters even has some scouts comparing his style of play to Dwayne Wade. That's a little overboard for me, but the Raptors need some excitement on the court. It's been missing since Vince Carter left.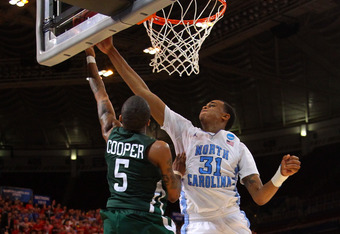 Dilip Vishwanat/Getty Images
#9: Detroit Pistons – PF John Henson, North Carolina
He's been linked to the Pistons for ages, so I'll mock him here in disbelief. He's not a top 10 player. He's a marginal rotational player in this league who can block some shots and provide high energy. That's all. He's very wiry and doesn't have great finishing ability.
The Pistons already have Jason Maxiell and Jonas Jerebko to do this sort of thing. They need polished scorers to help Greg Monroe out.
#10: New Orleans Hornets – PG Kendall Marshall, Duke
The Hornets are adamant about retaining Eric Gordon, so talk of them taking a talented two-guard here doesn't make any sense.
Marshall isn't the greatest scorer, but he's a natural point guard with excellent court vision. He understands who to give the ball to at the right spot at the right time. He's the steadying influence this young team needs.
Marshall and Davis will garner flashbacks of CP3 throwing alley oops to Tyson Chandler.
#11: Portland Blazers – C Myers Leonard, Illinois
The Blazers will need to draft someone with the athleticism to get rebounds and have some presence in the paint. Leonard has the potential to be that guy and can still add to his frame, unlike Tyler Zeller.
#12: Houston Rockets – SG Austin Rivers, Duke
Trying to figure out what Houston will do with these picks is like trying to learn quantum physics. It causes a massive headache. Best value goes here.
#13: Phoenix Suns – SG/SF Terrence Ross, Washington
The Suns need backcourt help, and in particular, need someone who can get to the hoop from the guard spot. Ross can light it up and would fit in well with the up-tempo system in Phoenix.
My concern with Ross is that he compares his game to Nick Young and J.R. Smith. This means he'll never pass up a shot. He's going to need stern coaching to harness his talent.
#14: Milwaukee Bucks – C Tyler Zeller, North Carolina
The Bucks have acquired Samuel Dalembert, but he's only on a one year deal. They still need their future big man to replace Andrew Bogut. Offensively, Zeller has a similar game and can set up in the post and deliver the hook. Plus, his ability to run the floor makes him a great fit on a team with Brandon Jennings and Monta Ellis.
In any event, Dalembert can't play 48 minutes. They need someone else at the position.
#15: Philadelphia 76ers – SG Jeremy Lamb, UConn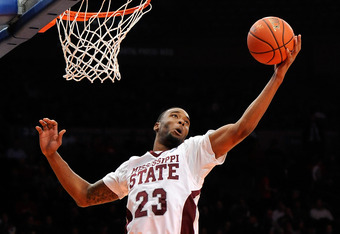 Patrick McDermott/Getty Images
Ideally the Sixers would draft Elton Brand's replacement. However, Jeremy Lamb is too talented a shooter to pass up. When you consider they might not be able to resign Louis Williams, it's a no-brainer.
#16: Houston Rockets – SF Moe Harkless, St. John's
Not doing quantum physics.
#17: Dallas Mavericks – PF Arnett Moultrie, Mississippi State
The Mavericks need someone with size and rebounding to take some of the workload off Dirk. Moultrie is a perfect fit.
#18: Houston Rockets – PF Perry Jones III, Baylor
This is the pick most likely to actually stay in Houston. GM Daryl Morey loves taking the most talented player. They traded away Chase Budinger and can try to work Jones into the rotation in a similar role.
#19: Orlando Magic – PG Marquis Teague, Kentucky
The Magic are in a peculiar position the way this draft has worked out. There are quality bigs available, but they would just give the team something similar to what they have (Big Baby Davis/Sullinger, Ryan Anderson/Nicholson). You can argue that both of those options are upgrades over the current Magic versions, but it's clear the Magic will need someone to play point guard in the future. It's clearly not Jameer Nelson.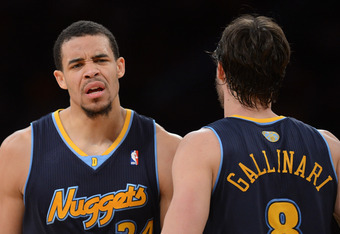 Harry How/Getty Images
I'll mock the obvious need despite this being a bit of a reach for Teague.
#20: Denver Nuggets – PF Terrence Jones, Kentucky
The Nuggets would like to move this pick for a veteran. Recent moves also indicate they are trying to get out of some of their long-term salary commitments. If they can move Al Harrington, Jones would be a nice replacement. His ability to steal some minutes at the three and create mismatches could be a great asset for George Karl.
#21: Boston Celtics – PF Royce White, Iowa State
There is rampant speculation that the Celtics have given him a promise. He has plenty of talent but a social anxiety disorder is part of the enigma of whether everything can come together for him at the next level.
#22: Boston Celtics – PF/C Andrew Nicholson, St. Bonaventure
This pick will be very telling for the future direction of the Celtics. Do they want a center who was like Kendrick Perkins patrolling the paint? Or do they want a stretch five like Garnett? Both options are available.
Based on Ainge trading Perkins for Jeff Green, I think they will go the Nicholson route. His offensive game has some striking similarities to a young KG.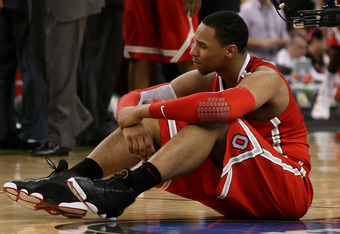 Jeff Gross/Getty Images
#23: Atlanta Hawks – C Fab Melo, Syracuse
At some point the Hawks have to let Al Horford play PF. Melo is a legitimate sized center who will make an immediate impact on the defensive end. The Hawks have enough players looking for offense and won't have to try and turn Melo into a scoring threat.
#24: Cleveland Cavaliers – PF Jared Sullinger, Ohio State
Sullinger came into the draft overrated because of his lack of athleticism and inability to handle legitimate size at his position on the NBA level. Nonetheless, he's a talented player when the matchups are in his favor.
The back/hamstring concerns are legitimate and will cause Sullinger to undergo a massive slide. The best course of action might be for Sullinger to have surgery and miss his rookie season. Cleveland are years away from contending so they can afford to take a chance on him. They likely would have considered him at No.4 without the health issues.
#25: Memphis Grizzlies – SF Will Barton, Memphis
It is highly unlikely the Grizzlies will be picking here. The most likely player taken by the team buying this pick is Will Barton, based on how things have developed. There is chatter about Rudy Gay being moved as well. If that happens, Barton makes sense to keep in Memphis.
#26: Indiana Pacers –PF Draymond Green, Michigan State
The Pacers like his overall ability and his toughness. He'll primarily backup David West but could also steal some minutes at the 3. He's a lunch pail guy, and the Pacers have a knack of bringing those types in.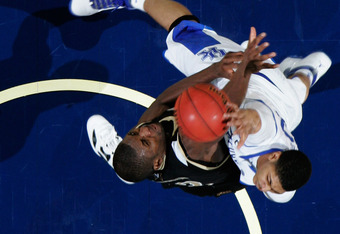 Chris Graythen/Getty Images
#27: Miami Heat – C Festus Ezeli, Vanderbilt
For most teams, Ezeli would not be an option here. Most teams don't have Wade, LeBron, and Bosh.
Miami has been searching for anyone who can clog the paint and rebound effectively out of the center spot. They were desperate enough to bring in the Joey Chestnut of the NBA, Eddy Curry. He was a plus size suit model on the bench all season.
Ezeli is the Heat's answer to its five-hole problem since this team was put together. He's physical, big, rebounds, clogs the paint, and gets easy buckets around the rim. Unlike the retread big men available for the veteran minimum, Ezeli can perform this role effectively.
This pick is the luxury of being in a position to take novelty players.
#28: Oklahoma City Thunder – SG Evan Fornier, France
The Thunder don't need to add any more guaranteed money to its roster, so they will look to move out of this pick.
If they don't, GM Sam Presti is from the Spurs school of drafting. I'd expect him to take a foreign player to stash overseas. This also solves the money issue.
#29: Chicago Bulls – PG Tyshawn Taylor, Kansas
Multiple league sources are stating the Bulls will take Tyshawn Taylor tonight to backup for Derrick Rose. He has plenty of explosiveness compared to the current reserve guards on the Bulls. It's certainly a reach, but the uncertainty around Rose's injury is driving this bus.
#30: Golden State Warriors - PG Tony Wroten Jr., Washington
The Warriors need a PG prospect and someone to defend opposing guards. Wroten would hit on both needs.