Arizona Diamondbacks: Odds on Which Rotation Member Trevor Bauer Will Replace
June 28, 2012

Rob Tringali/Getty Images
With Arizona Diamondbacks pitching prospect Trevor Bauer making his MLB debut Thursday against the Atlanta Braves, the wait is finally over.
At the minor league level, the UCLA alum has been dynamite in 2012 for Double-A Mobile and Triple-A Reno, putting up a combined 11-1 record—including a perfect 4-0 mark for the Triple-A Aces—with a 2.23 ERA and holding opponents to a mere .220 batting average.
Rated an overall No. 9 prospect by Baseball America prior to the 2012 season, Bauer has held foes to a combined 7.7 hits per nine innings pitched, averaging one home run for every 18 innings of work with a strikeout-to-walks ratio of 2.42 and WHIP of 1.323.
Baseball has been officially put on notice.
For the fledgling third-place Diamondbacks, Bauer's call-up is part blockbuster move, part necessity.
Starter Ian Kennedy—NL wins co-leader in 2011—has regressed to 2010 form and both Daniel Hudson and Joe Saunders are hurt while Oakland transplant Trevor Cahill is still finding his way in the desert.
Meanwhile, Bauer will join Wade Miley in the current rotation as minor league ballplayers with a chance to shine at the big league level.
That said, now that Bauer is hope, the Diamondbacks front office and manager Kirk Gibson would be most wise to have him stay. Bauer is an especially exciting player and the D-Backs need all the help they can get.
Still, with five regulars already penned into the starting rotation prior to Bauer's arrival, if he is to stay, he will have to replace one of those hurlers full-time.
But whom?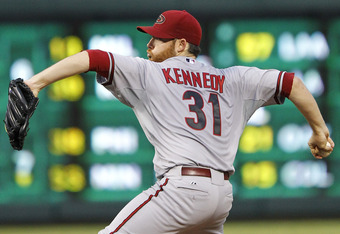 Rick Yeatts/Getty Images
Ian Kennedy
Though he was the ace of the Diamondbacks staff in 2011 with a 21-4 record and 2.88 ERA, in 2012 he is just 5-7 with a 4.42 ERA. His 2011 batting average against of .227 has given way to a 2012 figure of .282, while a 1.09 WHIP has become 1.35.
Still, Kennedy has been the D-Backs ace before and Arizona will not give up on him so easily. Bauer will not replace Kennedy in the rotation.
Trevor Cahill
Though Cahill was recently roughed up by Atlanta, he still has been a decent starting pitcher—he has had his occasional gems, including a complete game shutout against San Diego on June 3 and a 7.0-inning, three hit and zero runs performance against the sizzling Los Angeles Angels of Anaheim in Southern California on June 15.
Sure, the D-Backs have problems in the starting rotation, but Cahill is not one of them. 
Daniel Hudson
Placed on the 15-day disabled list with a torn elbow ligament, Daniel Hudson has had a rough start to the 2012 season. He initially found himself with a right shoulder impingement to end April, only to come back too soon in May before contracting his current injury.
Hudson is suffering from the injury bug, which has affected his MLB performance in a significantly negative way. Still, if he does manage to climb back from his affliction, the D-Backs elite will find a way to keep him in the rotation.
Wade Miley
A fellow young prospect himself, the last starter in Wade Miley knows he can be sent down at any moment—which is why he's pitched phenomenally in the first half of 2012. With a 9-3 record, 2.19 ERA, .216 batting average against and 1.01 WHIP, Miley is on too much of a hot streak to be bumped by Bauer.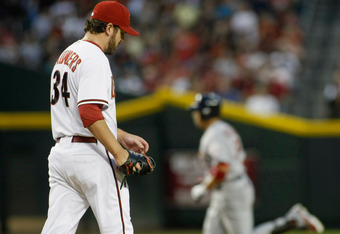 Ralph Freso/Getty Images
Joe Saunders
And with that, all signs point to Joe Saunders, the will-he-or-won't-he return pitcher from the 2011-12 offseason. After losing Hiroki Kuroda to the New York Yankees, the D-Backs courted Saunders back to the Chase Field for a repeat assignment.
On the one hand, Saunders' 2012 numbers may be better than Hudson, Cahill and even Kennedy—Saunders has the lower ERA—yet on the other hand, Saunders' turbulent winter suggests he is also the most liquid.
According to Ken Rosenthal and select MLB sources, the Baltimore Orioles may be especially receptive to a trade involving Saunders over the next month.
Prior to the Kevin Youkilis trade falling through, Saunders' name had been mentioned as a potential trade piece, with Nick Piecoro indicating Saunders had drawn interest from Atlanta, Baltimore, Boston and Pittsburgh.
Precisely because of his liquidity, Saunders appears to be the odds-on favorite as the answer to the question, "Who will Trevor Bauer permanently replace?"
Either way, Saunders will remain on the 15-day DL through the All-Star break, which will give Arizona plenty of time to decide how to proceed.