Bryce Harper and Mike Trout Are MLB's New Golden Boys
June 28, 2012

It's 1951, and baseball is in the process of entering its golden age. Fathers are back from the war overseas, teaching their young sons the game they once knew as their own. The men would take their sons to the great temples of the sport—Yankee Stadium, the Polo Grounds, Ebbets Field—to watch the greatest ballplayers alive.
1951 was the year two of the best players in baseball history debuted. For the New York Yankees, there was a kid from Commerce, Oklahoma creating buzz. His name was Mickey Mantle. Just a few minutes away for the Giants, there was a young black star named Willie Mays from Fairfield, Alabama.
They grew as ballplayers together and almost single-handedly ushered in the greatest era baseball has ever seen. Together, even with Mantle's shortened career, they combined for 1,196 home runs, 44 All-Star games, five MVPs and eight World Series titles.
Mantle was inducted into the Hall of Fame in 1974, Mays five years later.
Just as Mantle and Mays captured the imagination of a country half a century ago, two young players today have the chance to do just that.
Meet the Golden Boys of baseball today—Mike Trout and Bryce Harper.
Jered Weaver left a pitch over the plate to J.J. Hardy. Nine times out of 10, the ball that Baltimore's shortstop hit is a home run.
In center field, a 20-year-old kid kicked into high gear, sprinting toward the right-center field wall. Without breaking stride, he leaped and drifted toward the wall. He extended his glove and, three feet above the wall, Mike Trout brought back a home run.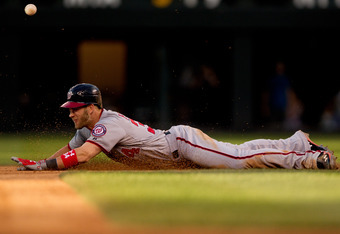 Justin Edmonds/Getty Images
A few weeks earlier, in that same ballpark in Baltimore, a 19-year-old rookie slapped a single through the hole to the right of second base. Ninety-nine out of 100 times, it's a simple single.
This kid, however, did the classic "banana peel" turn at first base, ignoring convention and sprinting toward second base. By the time the throw got there, Bryce Harper was dusting himself off after a double.
In the age of intense scouting of prospects, it's very hard for a player to escape the hype that surrounds him. Even tougher is living up to that hype. Harper and Trout, however, have taken it a step further. They've surpassed the hype. They've embraced it.
Just about halfway through the 2012 season, fans of the sport have recognized that this could be 1951 all over again—two icons of baseball might be blossoming right before our eyes.
How good are they already?
According to Baseball Reference's WAR (wins above replacement), Trout is 4.1 wins better, and Harper 1.4 runs better than their league-average replacements.
In 1951, Mantle's WAR was 1.3, Mays' 1.9.
Trout is obviously the more advanced of the two players at this point. To be fair, both have nearly unlimited potential. They are totally different players, however.
Harper is more of a Mantle, a guy who hits tape-measure home runs, hustles like no one else and has an arm like a rocket-propelled grenade launcher.
Trout is more Mays. He runs like a leadoff hitter, hits like a cleanup hitter and fields like a Gold Glover. His game, at 20 years old, is almost without flaw.
Together, they could dominate baseball for the next 15 years. Both have absolutely insane potential— 40/40 seasons, multiple MVPs, Hall of Fame. One of them could be the guy to break DiMaggio's hitting streak or hit .400.
But their most important contribution to the game of baseball may not even be what they do on the field. It may be what they do for society.
Baseball was once our game in America. You'd be naive to think it still is. Young kids have become enamored with the football culture, craving big hits and long touchdown runs over a shutout or well-placed bunt.
Trout and Harper could change that. Just like Mantle and Mays did in the 50s, these two players could usher in a new era in baseball. With the steroid era in the rear-view mirror, baseball truly has a chance to recapture an audience for the first time in a long time.
No matter what team you root for, you have to root for Trout and Harper to succeed. They will change baseball for the better.
Even in my 20s, I have a childlike appreciation for what these kids—both younger than me—are doing.
I can only imagine how younger children would feel watching two of baseball's best prospects in decades.
Maybe the older generation can even appreciate them. Because as much as the game has changed in the 61 years since Mantle's and Mays' debuts, what Trout and Harper have the potential to do is equally impactful.