2012 NBA Draft Trades: Grading Critical Rockets and Bucks Deal
June 28, 2012

Harry How/Getty Images
The Houston Rockets have been very busy in the days leading up to Thursday night's NBA draft.
Wednesday they pulled off their second trade in as many days by sending center Samuel Dalembert and the No. 14 pick in the draft in exchange for the No.12 pick.
Let's take a look at how this trade grades out and how it impacts the future of both teams involved.
General manager John Hammond didn't have to wait until the draft to land his starting center for next year as there was a real possibility the Bucks may have taken Tyler Zeller or Meyers Leonard with that pick.
In Dalembert, they get a defensive presence in the middle who blocked 1.71 shots during the 2012 season. He has averaged 8.0 points, 8.2 rebounds and 1.9 blocks in 10 NBA seasons and fills a huge hole in the middle created by last season's trade of Andrew Bogut.
In addition, it allows Milwaukee to move Drew Gooden back to the four. Gooden had a decent 2012 campaign—averaging 13.7 points and 6.5 rebounds—but was forced to play out of position after the Bogut trade.
Moving down two spots isn't a big deal for Milwaukee as they can target a two-guard or small forward with that pick.
Names like Terrence Ross, Jeremy Lamb, Terrence Jones, Perry Jones and others could now be in play for them at No. 14.
Grade: B+: Dalembert isn't the greatest player, but he's a legitimate seven-footer with length that can help fix Milwaukee's interior defense. With the No. 14 pick, the Bucks should be able to add a weapon that can contribute offensively.
Houston Rockets
The Rockets have a plan and they are being aggressive in trying to acquire enough assets to use to acquire Orlando's Dwight Howard.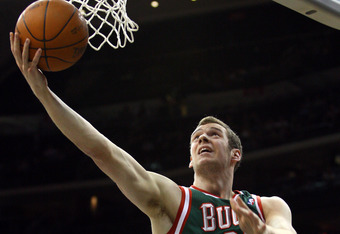 Chris Chambers/Getty Images
If they can do so, then this is a huge win for Houston; if not, then they gave up Dalembert for guard Shaun Livingston and forwards Jon Brockman and Jon Leuer.
They saved some money in the process, but it all depends on what Houston does with their three picks.
The No. 12 pick may be more attractive to trade than the No. 14; but even if they can't move up, the Rockets are now in position to take Zeller or Leonard, as they both could have been gone by the 14th pick.
Leuer could be a guy that could be a surprise in the deal as—if given the opportunity—he could provide some surprising production; but he could also be a guy to flip in a deal.
Grade: B-: It's hard to grade the Rockets deal here until we see whether they move up or not; but if they don't, then they dealt Dalembert for a chance to draft a rookie center who will ultimately be a project.
If they are able to move up and either grab Howard or a top prospect, then this grade will bump up to the A range.