NHL Free Agency 2012: How the Carolina Hurricanes Stand Entering Free Agency
June 29, 2012
Bruce Bennett/Getty Images
The countdown to the opening of NHL free agency has reached 48 hours.
Come Sunday at noon, the market's biggest names will be dropping like stones as a select few Cup contenders seek to land their one missing piece.
For the Carolina Hurricanes, though, this weekend's activity won't be the climax of the 2012 offseason.
That high point has likely already come and gone—GM Jim Rutherford's acquisition of elite center Jordan Staal a week ago will certainly claim the title. After all, the 'Canes haven't made a move of that caliber in arguably a decade.
However, July's free-agency period will instead offer an opportunity to fill the elusive holes that annually hold the Hurricanes out of true playoff contention.
With a slimmed-down but nonetheless important agenda—in addition to $22.5 million in cap space—Rutherford will have more than a few questions to answer with his decisions this summer.
How will the now-united Staal brothers transform the team's offensive lineup?
Who will fill Brandon Sutter's vacated defensive center role? 
Which players will be brought in to fill the Hurricanes' increasingly-open goaltending ranks?
How do the 'Canes really stand on each of those fronts? How could they go about finding the solutions? A complete evaluation of Carolina's current offseason situation falls below.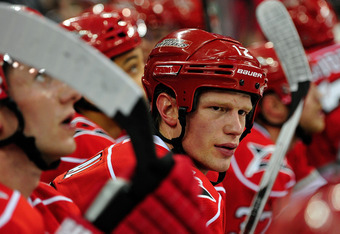 Grant Halverson/Getty Images
Will Jordan and Eric Staal Play Together?
After a week of speculation whether or not the Staal brothers would play on the same line, Kirk Muller has delivered the answer.
Yes.
As Muller told Chip Alexander on Wednesday:
"The first initial thing, right now, we definitely want to give them an opportunity to play together in those games and see if there's chemistry. 

Lots of times, until you put guys together...you've got to get a feel for it. I know they have a little history from before. But I think it makes sense right now to start off with them and see how they work together."
Placing both siblings on the first line would presumably mean traditional center Eric would shift to wing, an idea Rutherford has previously proposed in prior interviews.
The announcement of a Staal bros. combo will also raise expectations for Jordan's offensive output in Carolina.
Although Jordan is unquestionably one of the best two-way forwards in the NHL, he scored just 25 goals and 50 points last season—a level of production that is, while certainly decent, not jaw-dropping. Playing first-line minutes with his brother, however, could increase his scoring into the 35-goal, 70-point range.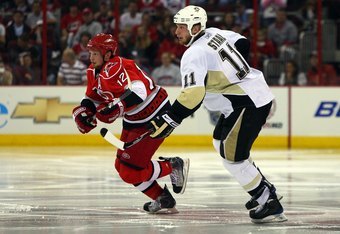 Jim McIsaac/Getty Images
Rutherford is reportedly working on a long-term contract extension for Jordan, as well. Per ESPN's Pierre LeBrun via Twitter:
Easier said than done but the Carolina Hurricanes are hoping to conclude a contract extension with Jordan Staal within the next 2 weeks

— Pierre LeBrun (@Real_ESPNLeBrun) June 28, 2012
Jordan currently has one year left on a contract that carries a $4 million cap hit. 
He turned down a 10-year, $60 million extension from the Pittsburgh Penguins before his trade to Carolina, but has said before that the 'Canes are the one team he'd be willing to negotiate a new contract with this summer.
Will Rutherford Sign Any Other Forwards via Free Agency?
The Jordan Staal trade may be the end of the Hurricanes' forward-related move this summer.
Or it may not be.
With Eric and Jordan Staal, Jiri Tlusty, Jeff Skinner, Tuomo Ruutu, Jussi Jokinen and Chad LaRose all under contract through next season, the 'Canes have an abundance of upper-level forwards as it is. However, they may look to improve on that rather pedestrian group by landing an A-grade free-agent, too.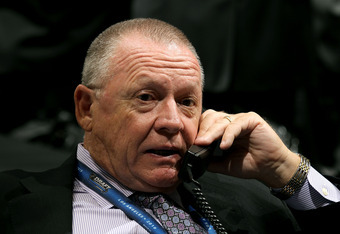 Bruce Bennett/Getty Images
Quality top-six wingers P.A. Parenteau, 29, and Shane Doan, 35, will both enter free agency this summer, reports RDS's Renaud Lavoie and the Denver Post's Adrian Dater, respectively. Both scored at least 18 goals and 53 points in each of the last two seasons.
Injury-prone Guillaume Latendresse, 25, will also hit the market after not being tendered a qualifying offer by Minnesota on Monday. The 6'2", 230 lb. left winger played just 27 games over the last two seasons combined but, when healthy, is a skilled 25-plus goalscorer.
Carolina will also need to find a replacement for Brandon Sutter's center position on the checking line.
Youngster Jeremy Welsh, a Hurricanes' RFA this summer after signing an entry-level contract for the team's final regular season game in April, could be a favorite for the job. The 23-year-old has a solid 6'3", 200 lb. frame of his own, and was a big standout with Union College this past season.
Muller also has high hopes for Welsh, telling CarolinaHurricanes.com's Michael Smith "His skill level is there. (He has) a great opportunity...I want him to earn [that spot]."
On the other hand, veteran 6'5", 231 lb. UFA Paul Gaustad, 30, could help the 'Canes out in a number of ways. The long-time Sabre, who was dealt to Nashville at the trade deadline, registered 114 hits last season—tied for the most among all UFA centers—and won a whopping 57.3 percent of his 1,150 faceoffs.
The Hurricanes could also look at 18-year NHL vet Jason Arnott, unheralded penalty kill specialist Jay McClement or versatile character guy Dominic Moore—all of whom will be UFA's come Sunday—to fill the void.
How Will the Hurricanes' Defensive Situation Play Out?
The 'Canes current defensive depth chart is, at the moment, about as clear as a 1,000-piece Ravensburger jigsaw puzzle.
Technically, Carolina has six defensemen under contract, but one of them—Derek Joslin—will not be playing any defense next year.
The other five—Joni Pitkanen ($4.5 mil cap hit), Tim Gleason ($4.0 mil), Jamie McBain ($1.8 mil), Justin Faulk ($0.9 mil) and Jay Harrison ($0.7 mil)—are locks to makes the team, conversely, unless traded suddenly at some point in the near future.
Further, the 'Canes have two defensemen—Bryan Allen and Jaroslav Spacek—who will be unrestricted free agents (UFA's) come Sunday. Both of them, says Rutherford, "will test the free-agent market", but Rutherford has previously, at least, shown interest in re-signing Allen.
Competing for the one remaining defensive roster spot will be prospects Bobby Sanguinetti, 24, and Ryan Murphy, 19.
Sanguinetti, who was re-signed to a one-year extension in May, is a talented power-play specialist who tallied 50 points in 60 games for AHL Charlotte last season. Murphy, who was signed to a three-year entry-level deal earlier this spring, was the Hurricanes' first-round pick in 2011 and scored 54 points in 49 games for OHL Kitchener last season.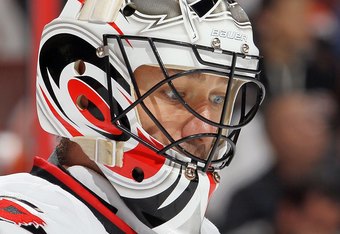 Jim McIsaac/Getty Images
Nonetheless, despite the crowded competition already loaded within the 'Canes' organization, Rutherford may also pursue a top-tier free-agent. Speculates Chip Alexander:
One man's opinion: Canes have interest in Justin Schultz, Jason Garrison. Also will make offer for Ryan Suter come July 1.

— Chip Alexander (@ice_chip) June 26, 2012
Suter, the most sought-after UFA rearguard by far, is a well-rounded star who could serve as the perfect partner for the offensively-minded Pitkanen.
Garrison, the Florida Panthers' breakout player of 2011-12, blasted home a whopping 16 goals from the blue line last year and could provide a big boost to the Hurricanes' perennially-poor power-play unit.
And while Rutherford has officially had contact with neither Suter nor Garrison so far, Sportsnet's Mark Spector notes that the 'Canes were indeed after UFA blueliner Justin Schultz earlier this week:
Carolina among teams that tried, but were not shortlisted by Justin Schultz and agent.

— Mark Spector Sports (@SportsnetSpec) June 28, 2012
What Will Be Done About the Franchise's Goaltending Shortage?
Justin Peters is set to be a UFA.
Mike Murphy is headed to the KHL.
Frederik Anderson is re-entering the draft.
Brian Boucher will be out 4-6 months after shoulder surgery, and had an extremely rough '11-12 campaign in the first place.
Where do those setbacks leave the Hurricanes' entire organizational goaltending depth? With a mere two healthy and available goaltenders—stalwart starter Cam Ward and ECHL product John Muse—under contract for opening day.
The 'Canes did pick two netminders during day two of last week's draft, but neither will be contract-ready for another few seasons. That means Rutherford could very well look to an incredibly shallow free-agent goalie market to fill out the depth chart.
UFA goaltending possibilities:
Jonas

Gustavsson

, age 27—17-17-4 record, .902 save percentage with Maple Leafs last season; short-term rights traded to Winnipeg last Saturday.
Chris Mason, age 36—8-7-1 record, .898 save percentage with Jets last season; experienced backup who won four of five games against 'Canes in 2011-12.
Scott

Clemmenson

, age 34—impressive 14-6-6 record, .913 save percentage with Florida last season.
Al Montoya, age 27—9-11-5 record, .893 save percentage with Islanders last season; showed promising glimpses in spring of 2011.
Rutherford may also attempt to re-sign Peters, who has been solid at times in the NHL, before he enters free agency Sunday. The 26-year-old could be a very viable backup in place of Boucher next fall.
Mark Jones has been a Bleacher Report featured columnist since 2009. In that time, he has written more than 395 articles and received over 560,000 reads.
Visit his profile to read more, or follow him on Twitter.