Buffon vs. Neuer: Who Came out on Top?
June 28, 2012

Shaun Botterill/Getty Images
The eighth meeting at a major tournament between Germany and Italy Thursday night had many headlines coming in.
It was a battle against history for the Germans, who had never defeated Italy in a major tournament...ever. It was a battle between an aging side and an up-and-coming team. It was a battle between a strong defensive squad and a potent offensive side.
But, there was one battle that did not gain much press coming in. This one affected the outcome of the game just as much as any of the other match-ups did. That was the battle between two of the best goalkeepers in the world in Manuel Neuer of Germany and Gianluigi Buffon of Italy.
Coming into the game in his best form in recent memory, Neuer allowed two goals in three games during the group stage and then two more in his quarterfinal start against a feisty Greek side. The 26-year-old needed a big performance against Italy if Germany were to advance, but the only thing Neuer could do was watch. The Germans limited the action in front of Neuer, but two brilliant goals from Mario Balotelli in the first half put the game out of reach. Neuer was in good position for both, but the only hope he had was using his bright pink-orange jersey to distract Balotelli when shooting.
Buffon had much more work to do than Neuer throughout the game, and showed why still, at the age of 34, he is considered the best goalie in the world. Buffon has seen everything on the pitch, as the Juventus goalkeeper is the only player at Euro 2012 who also played in the 1998 World Cup. After a shaky start and some stellar help from his defenders, the Italian captain recovered well and played like the Buffon of old, stopping shot after shot from the Germans. Buffon made six saves overall in the game, while Neuer kept three out for the Germans.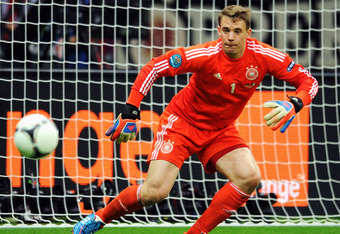 Christopher Lee/Getty Images
Buffon almost scored a goal on himself when he parried Jerome Boateng's cross into his center back Andrea Barzagli in the first minutes of the game. Luckily for Italy, the ball bounced off Barzagli and went just wide. After Italy took the lead, Buffon started the counterattack for the Azzurri when he saved a corner to the feet of Riccardo Montolivo. Montolivo played a ball over the top to Balotelli, who then netted his second goal. That gave Buffon the assist to the assister.
Making save after save, Buffon kept Italy's scoreless streak over 300 minutes without allowing a goal until Mesut Ozil scored on a penalty kick in the third minute of stoppage time. Although Neuer did not have many saves to make, Buffon's play made him the better goalie. World-class goalies find ways to make saves, and Buffon showed why he is a part of that elite group.
There is no doubt that Buffon got lucky at times, and got bailed out by his strong and experienced defense. But when you're a goalkeeper, keeping the ball out of the goal is priority number one. Buffon continues to do that game after game, tournament after tournament, year after year.
Experience does not always beat youth, but it did Thursday night in Warsaw. Germany will have to wait yet another tournament to try and put their name on a trophy for the first time since 1996. I'm guessing history won't be too upset.