Lakers Rumors: Why the Lakers Bench Needs a Complete Overhaul
June 29, 2012

Harry How/Getty Images
After what many considered a failed season for the Los Angeles Lakers, the team heads into free agency with many questions regarding their veteran roster. One of the many problems with their team is the lack of substantial and consistent production from their dismal bench.
The Lakers' second unit ranked dead last in points per game last season, as they only scored a shade over 20 points per night. The bench didn't help much in other assets of the game with averages of 12.8 boards and 6.6 assists.
Yikes.
One could make the case that the reasons Los Angeles wasn't more competitive this season was the simple fact that their bench was the worst in the entire association. However, the team does have a chance to improve this piece of the puzzle.
With both Matt Barnes, arguably the team's best bench option last season, and Troy Murphy heading into open market, as they are both unrestricted free agents, the Lakers have some cap space to work with (albeit very little.)
Nonetheless, losing both of these players does help the cause. Murphy, who was signed last offseason, turned out to be a terrible addition. His lack of athleticism and advanced age made him susceptible to constant attack from opposing power forwards. Additionally, Murphy, whose greatest skill is his scoring prowess, only tallied a little over 3 points per contest. 
Barnes, on the other hand, put up decent numbers last season, but he also played almost 23 per game due to the lack of a multitude of established bench players. His inability to hit the three-point jumper at a consistent rate and being a liability on offense will probably lead to him finding a new city to call home.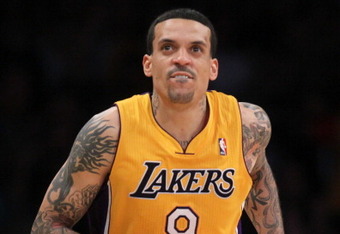 Jeff Gross/Getty Images
Additionally, his defense, which is undoubtedly his greatest strength, has started to fail him due to his dwindling athleticism. Already 32 years old, Barnes may be searching for his last contract.
As of right now, the Lakers' biggest issues are to resign point guard Ramon Sessions and decide the future of power forward Pau Gasol. Depending on how much money Sessions commands, the Lakers may have enough cap room to find a few quality role players to come off the pine. 
Finding new contracts for restricted free agents Darius Morris and Devin Ebanks is a necessity. Both players have showed promise in their short time in the league. Morris can hit the mid-range jumper with great consistency, something Los Angeles desperately lacks.
Ebanks, on the other hand, has the intangibles to become a great starting small forward. With a lanky 6'9" frame and explosive athleticism, this prospect was, in the beginning of the season, the starter next to Kobe Bryant.
Inconsistency issues, though, sent him to the bench in favor of Metta World Piece.
Both players are good fits for a Lakers' new look bench featuring recently-acquired center Jordan Hill. The trio of Morris, Hill and Ebanks is quite young and will develop into a fierce group. 
However, the Lakers need a true scoring punch off the bench and stronger defensive presence. Both Marcus Camby and Kenyon Martin would fit the latter bill. Camby says he is open to return to the Rockets, but there is a chance a contender signs him away.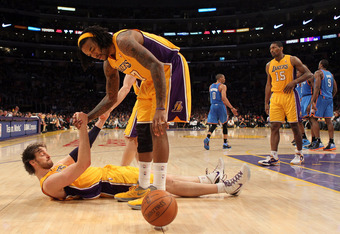 Stephen Dunn/Getty Images
Martin, on the other hand, just signed for the mini mid-level exception with the Clippers this season and he would probably command money similar to, if not less, this time around.
Acquiring a scoring punch would be quite difficult, though. There are many big men that can protect the rim, but few players who can provide instant offense. Lou Williams of the Philadelphia 76ers is an option, as he was one of the leading men for the Sixth Man of the Year Award. His price will probably be out of range for the Lakers.
Former Laker Shannon Brown and Leanardo Barbosa, who just played for the Indiana Pacers, would be great fits in Mike Brown's system. Both are athletic, solid scorers who will alleviate some of the team's bench scoring woes. 
The Lakers could also test their luck with sign-and-trades. Michael Beasley of the Minnesota Timberwolves has caught the eye of the Lakers numerous times throughout the year. His potential, coupled with a silky smooth offensive game, would help Los Angeles recapture Western dominance.
L.A. would most likely need to give up Pau Gasol and his cumbersome contract in order to complete such a deal. They, however, are not completely sold on the idea of blowing up the current core.
But if the team wants to return to the NBA Finals and get Kobe his sixth ring to tie Michael Jordan, the team must not become sentimental and trade Gasol to improve the bench, as that is the best way to strengthen the second unit.