Erin Andrews Leaves ESPN, Draws Interest from Fox Sports
June 29, 2012

Ronald Martinez/Getty Images
Erin Andrews will no longer dominate sidelines for ESPN. Andrews' contract with ESPN is up at the end of June, and it seems she will be taking her reporting skills elsewhere.
Word was reported how it normally is nowadays—by Twitter. Mike Soltys, public relations official for ESPN, reported via Twitter the following:
Erin Andrews leaving ESPN. She did great work for us & we made an aggressive offer to keep her. We wish her the best on her next chapter.

— Mike Soltys (@espnmikes) June 29, 2012
Now is not the time to start worrying about Andrews, because it seems she can still garner quite the interest, far outside the walls of ESPN. 
Richard Deitsch of SI.com reports Andrews is sparking interest from Fox Sports as the network continues to widen their coverage in the realm of college football. 
The sideline superstar saw her popularity wane recently as other network personalities rose in prominence.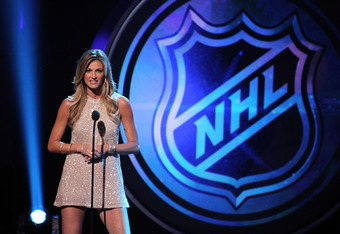 Isaac Brekken/Getty Images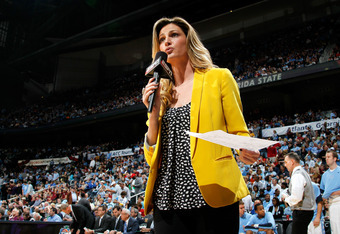 Kevin C. Cox/Getty Images
As Michelle Beadle left for the NBC family of networks, the thought would be Andrews stepping forward in a far more visible position with the network. 
That wasn't the case, and the 34-year-old beauty will now test the open market (if she doesn't already have a deal in hand). 
SI's Deitsch tried to get in touch with Andrews' camp prior to ESPN's announcement, but he was turned away by a representative who merely stated, "Erin remains under contract with ESPN."
Now that this isn't the case, we await definitive word as to the next stop for the once tremendously popular sideline reporter. 
We will only work off rumor and innuendo at the moment, but it seems Fox Sports would be a great landing spot, especially if she can glean more exposure at the rival network.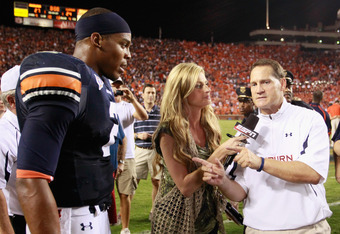 Kevin C. Cox/Getty Images
Of course, the odd part in the report is SI maintains the offer is, "regarding a major role in Fox's college football coverage."
I don't see the switch being all that enticing if it will be more of the same, and pigeonhole one of the most popular personalities back to the sidelines. 
If this is a hosting gig, it could be far more useful to Andrews, who has been more of a backstory in recent months, especially as Michelle Beadle rose to prominence at ESPN. 
There is no telling what exactly broke down in negotiations with ESPN, or if this was more about a deal from another network, like Fox Sports, being far more enticing. 
The only thing we know for certain is the most visible personality to work the sidelines at ESPN will feature with another network.  
Follow me on Twitter because you know you want it.