NHL Free Agents 2012: Zach Parise and 3 Stars Who Should Move
June 29, 2012

Paul Bereswill/Getty Images
There could be a change of scenery coming for a number of stars in the NHL this offseason.
Aside from huge names like Zach Parise, Rick Nash and Ryan Suter hitting the open market, fans could see a 19-year vet finally play for a team other than the one that originally drafted him way back in 1990.
While each of these players have enjoyed a long run of at least seven seasons with their respected team, it may be time to move on and showcase their skills in a new city.
Let's take a gander at Parise, Nash, Suter and Martin Brodeur.
Zach Parise
On June 13, Zach Parise publicly stated (via ESPN) that he would be interested in re-signing with the New Jersey Devils, but now that the Pittsburgh Penguins have locked up Sidney Crosby for the longterm (via ABC News) we could see these two team up.
The Devils have the pieces around their captain to make a run at a Stanley Cup, but it's almost too enticing for Parise not to join Crosby and Evgeni Malkin in Pittsburgh.
As you'll see in this tweet from ESPN's John Buccigross, the Penguins recently freed up some cap space to acquire the left-winger.
By no means would it be a mistake for Parise to remain in New Jersey, but it may be too hard for him to turn down playing with No. 87.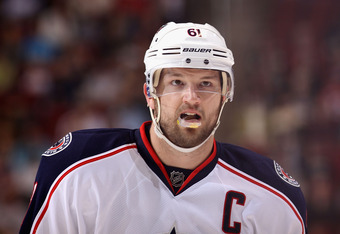 Christian Petersen/Getty Images
Rick Nash
Rick Nash flat out told the Columbus Blue Jackets that he wanted out (via ESPN), so why shouldn't he leave?
Nash led the worst team in hockey in goals and points, and deserves to play for a contender during the upcoming season.
Parise's movement will undoubtedly effect what ultimately happens with Nash as the Devils' left-winger is the most sought after LW this offseason.
Nash has spent nine seasons playing for an unsuccessful Columbus squad and could definitely use a change of scenery.
Martin Brodeur
Yes. Martin Brodeur will still be playing hockey next season.
Despite an up-and-down season for the 19-year veteran, Brodeur has hired an agent and it appears that he'll test the free agent market after spending his entire career in New Jersey (via ESPN).
For both the Devils and Brodeur, I think it's time they part ways. There were times this season where Brodeur looked his age, and then there were times when he looked like he was in his prime.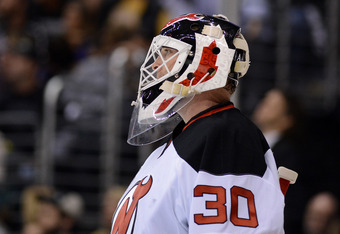 Harry How/Getty Images
Regardless, New Jersey needs to move on from the Brodeur era and start fresh with a young goalie who can move better in the crease.
It wouldn't surprise me if Brodeur finishes his career with New Jersey, but it may have to be as a backup.
Ryan Suter
As the top defenseman in this year's free agent class, Ryan Suter will have plenty of offers to field.
With seven seasons under his belt in Nashville and zero titles to show for it, Suter will, and should be, looking to play for a contender like the Pittsburgh Penguins or Detroit Red Wings to name a few.
According to CSNPhilly.com, the Pens are out to acquire the star defenseman despite Suter's preference to play in the Western Conference.
Pittsburgh has been clearing major cap space lately in efforts to attract Parise and/or Suter to couple with Crosby and Malkin.
Even if he doesn't end up in Pittsburgh, Suter should look to get out of Nashville and cash in elsewhere.
Follow me on Twitter @Pete_Schauer