2012 NFL Draft: 2nd-Round Picks Who Will Outshine 1st-Rounders
June 30, 2012

Mike McGinnis/Getty Images
Four second-round picks from the 2012 NFL draft have a great chance to outshine the first-round selections at their respective positions.
The group includes a speedy rush end who will surely boost the pass rush potential for a struggling AFC South outfit. There is also a wide receiver who could become the biggest weapon for an anemic NFC West offense. Here are the four second-rounders set to make a big impact this season:
Jerel Worthy, DT, Green Bay Packers
It was a surprise to see Jerel Worthy slip to the second round back in April. However, the ex-Michigan State defensive linchpin has the chance to put up bigger numbers than those defensive tackles chosen ahead of him.
Michael Brockers went before him, but he is more of a 2-gap lineman and Fletcher Cox will have to work his way through a crowded rotation with the Philadelphia Eagles.
Worthy is a natural 3-technique, with a knack for penetrating the line of scrimmage and making plays in the backfield. He has joined the perfect system with the Green Bay Packers.
Although they ostensibly run a 3-4, the Packers align in a nickel alignment on most downs. That means a four-man line and the Packers rely on interior pressure. Their defense lost its way last season after defensive tackle Cullen Jenkins left via free agency.
Worthy will get plenty of opportunities to pressure the pocket and rush the passer from the inside. Having Clay Matthews wreaking havoc on the outside and lining up next to B.J. Raji, will give Worthy every chance to be a playmaker from day one.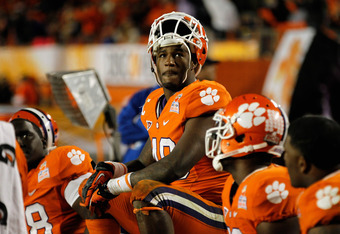 Streeter Lecka/Getty Images
Brian Quick, WR, St. Louis Rams
Former Appalachian State star Brian Quick should waste no time adding a big play dimension to the St. Louis Rams' offense. The Rams have a need for a wideout who can stretch the field, and Quick fits the bill.
First-round wide receivers Justin Blackmon of the Jacksonville Jaguars and Michael Floyd of the Arizona Cardinals are likely to be hindered by questionable quarterback situations.
However, Quick will face no such problem, with Sam Bradford in place in St. Louis. If Bradford regains his rookie form of 2010, expect Quick to be very productive.
Andre Branch, DE, Jacksonville Jaguars
There were a lot of defensive ends taken in the first round, so Andre Branch will have a lot to do to outperform them. However, the ex-Clemson sack master has a few advantages.
Branch joins a powerful front seven with the Jacksonville Jaguars and will also benefit from the tutelage of underrated defensive coordinator Mel Tucker. The Jaguars still run a 2-gap 4-3 and that means the ends are responsible for the bulk of the pass rush.
Branch's quick first step and exceptional range of movement, in tandem with Jacksonville's strong tackle rotation, can lead to a big first season for the second-round choice.
Cordy Glenn, OL, Buffalo Bills
Buffalo Bills second-round pick Cordy Glenn has a good chance to outshine many of the offensive lineman selected in the draft's opening round. Glenn offers superior size to fourth overall pick Matt Kalil and 23rd choice Riley Reiff.
Also, Glenn may find life as a blindside protector slightly easier going in the AFC East. Aside from Cameron Wake, who often aligns on the strong-side for the Miami Dolphins, Glenn won't be up against elite, experienced pass-rushers.
Kalil and Reiff, meanwhile, will have a tough time in the NFC North. Reiff will have Julius Peppers and Jared Allen to contend with, while Kalil will face Peppers and Kyle Vanden Bosch twice during his rookie campaign. That kind of competition could have a negative impact on their numbers.