Steven Jackson: St. Louis Rams Star Will Enjoy His Best Season in 2012
June 30, 2012

Whitney Curtis/Getty Images
Steven Jackson could be primed for the finest year of an outstanding career. Many may feel that the 28-year-old could be on the wane as he enters his ninth season.
However, Jackson is still the best all-round running back in the NFL. His power, range of moves, deceptive speed and receiving ability make him one of the few complete backs left in the league.
Jackson's stellar production for a St. Louis Rams franchise that has managed just 15 wins in five seasons, is nothing short of remarkable. Jackson has exceeded 1,000 yards rushing in each of those dire campaigns, despite Rams' opponents knowing he is the only offensive weapon worth worrying about.
However, the Rams still need Jackson to spearhead their latest rebuilding effort. The presence of new head coach Jeff Fisher will revitalize the multi-talented workhorse.
Along with new offensive coordinator Brian Schottenheimer, Fisher often favors controlling the clock with a power rushing attack. Jackson's punishing running is the key to that kind of system.
Solidifying the offensive line will be vital to increasing Jackson's numbers and the new regime has taken positive steps to strengthen the front five. They added former Green Bay Packers center Scott Wells and ex-Kansas City Chiefs starter Barry Richardson.
Wells is a tough and resourceful veteran and gives the Rams a savvy technician to anchor their blocking schemes. Richardson has his issues athletically, but the 6'6", 319-pounder is a durable run-blocker with good experience in a power system.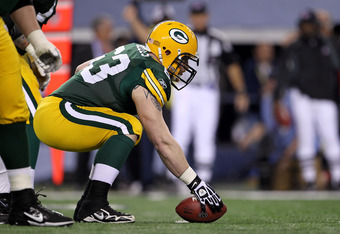 Jamie Squire/Getty Images
Aside from improvements up front, the selection of Isiah Pead in the second round of the 2012 draft shouldn't be underestimated. Pead finally gives the Rams a legitimate third-down, change-of-pace back.
That means Jackson will no longer have to carry the every-down load. A more rested Jackson will be fresher later in games and better able to batter tiring defenses.
Adding wide receiver Brian Quick with the first pick of the second round is also great news for Jackson. The ex-Appalachian State star has the size, vertical speed and leaping ability to finally give the Rams offense a legitimate deep threat.
That might deter teams from stacking the line with eight and nine man fronts quite as often, just to stop Jackson. Any defense that does leave safeties deep will certainly find Jackson too tough to handle.
All eyes will be on Sam Bradford this season, to see if he can recapture his rookie form. However, Jackson will once again determine the Rams' chances for success and Fisher and Schottenheimer are building a better structure to enable the great runner to flourish more than ever before.