NHL Free Agency 2012: 3 Reasons Why Ryan Suter Should Stay in Nashville
June 30, 2012

Christian Petersen/Getty Images
While the possibility of Ryan Suter leaving the Nashville Predators has many teams and front offices salivating, the reasons for him to stay in the Preds organization should outweigh any reasons to leave.
Suter's NHL career got off to a flying start, but he's just now entering his prime. Officially a free agent on July 1, Suter will have a wide variety of suitors ready to back up a dump truck of money on his front door and slap their team's sweater on him.
The American is hands down the best defenseman on the market and one of the top players overall available in free agency. So Nashville has a steep task of retaining him. General manager David Poile believes the Preds have been "loyal" to Suter, and they definitely want to keep him, per Smashville 24/7.
Suter finally notched his first All-Star selection in 2011-12 after years of stellar play, and he was an alternate captain for the U.S. team that won a silver medal in the 2010 Vancouver Winter Olympics.
Let's take a look at the reasons why Suter should remain in Nashville.
He's Able to Remain (Somewhat) Anonymous
Predators defenseman Hal Gill said it best in May, per NBC Sports: The lack of fan pressure in Nashville is unlike many other markets, and some of that alleviates the stresses that can jeopardize solid play.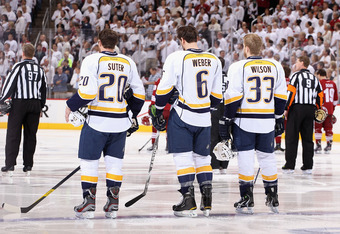 Christian Petersen/Getty Images
Nashville's fanbase is not small and does not give away trophies for losing, but it's nothing compared to the pressure from big markets. Hockey isn't everything in Nashville like it is in Suter's potential landing spots of Detroit or Pittsburgh, and Preds players have indicated in the past that not being noticed very often in public is surprisingly refreshing.
Personally, I'd love if people flocked toward me and wanted my autograph. But I can also see how it would be annoying after a while.
Playing Next to the NHL's Best Defenseman
Shea Weber got robbed of the Norris Trophy this year, and there's an argument that he should already have multiples of them.
Weber's defensive presence allows for an amazing combination with Suter. The big-bodied Weber can suffocate forwards while Suter's quick, elusive defense helps to get the puck out of the zone and into an attacking motion.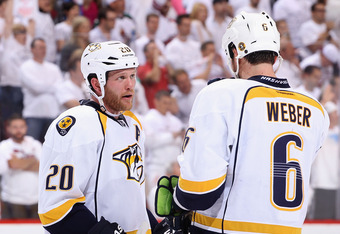 Christian Petersen/Getty Images
Their chemistry aside one another has been on display for many years. There's arguably no active defensive duo that has played together longer. 
If there's one thing that is certain, it's that Suter's next linemate (if he's to leave Nashville) won't be as talented as Weber.
A Chance to Win With the Team That Drafted Him
Suter has had high expectations as a Nashville Predator since they drafted him with the seventh overall pick in 2003. It's safe to say that he's shattered those expectations, but winning a Stanley Cup in Nashville would be the cherry on top.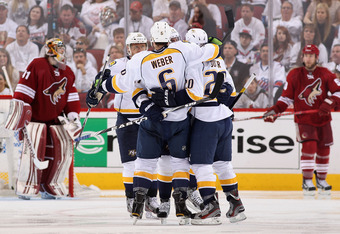 Christian Petersen/Getty Images
He could've bolted from Nashville long ago if he didn't believe in the team's chances of hoisting a Cup in the near future. After a letdown of a postseason, Suter could be doubting those earlier beliefs, but it's also important to notice how the Alexander Radulov and Andrei Kostitsyn situation adversely affected their chances.
With the strong core of team-first forwards coming back next season, the Preds should be relatively strong in the goal-scoring department, with the one hole at defense. If Suter wants to win in Nashville, he'll be best set to sign a deal quickly so that his teammates can do the same.
Without Suter signing quickly, many other Preds free agents could lose hope and sign elsewhere.