Timberwolves Won't Make Qualifying Offers to Michael Beasley or Anthony Randolph
July 1, 2012

The Minnesota Timberwolves will have some much-needed cap space as they venture into free agency this offseason.
The T-Wolves are reportedly making Michael Beasley and Anthony Randolph unrestricted free agents after not extending qualifying offers, according to Jerry Zgoda of the Star Tribune on Twitter:
The Wolves are not making qualifying offers to either Beasley or Randolph, as expected. They'll become unrestrictive free agents.

— Jerry Zgoda(@JerryZgoda) June 30, 2012
Minnesota would've had to spend $8.17 million on Beasley and just over $4 million on Randolph to execute the qualifying offers, according to Zach Links of HoopsRumors. 
With many skilled players available both in free agency and in the trade market this summer, the Timberwolves are apparently hoping that the millions saved in this move will allow them to bring in an experienced player to play alongside their young core of Ricky Rubio, Kevin Love and Derrick Williams.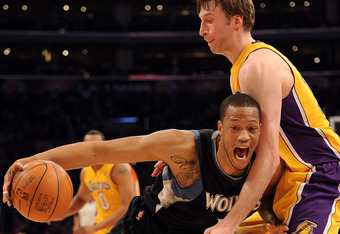 Harry How/Getty Images
Randolph's tenure in Minnesota began when he was dealt from the Knicks in 2010-11 in the three-team trade that sent Carmelo Anthony from Denver to New York.
He averaged nearly 12 points per game and 5.2 rebounds after the trade, but he saw his numbers regress to just 7.4 points per game and 3.6 rebounds last season.
The 6'11" forward is just 22 years old and has plenty of time to mature as a NBA player. Teams looking for youthful talent and size will be gunning for Randolph during free agency.
Beasley's career hasn't panned out the way most of us expected thus far. After being selected No. 2 overall in the 2008 NBA draft, he ran into multiple off-the-court issues involving marijuana possession and use. 
His unique skill set and athleticism make him one of the most intriguing free agents on the market, but questions will be asked by suitors of his loyalty to basketball and motivation to fulfill his vast potential.
One thing we now know is that the offseason just got a little more interesting.