Ryan Suter to Carolina: Signing Would Change the Hierarchy in the East
July 1, 2012
Christian Petersen/Getty Images
Update: Ryan Suter has signed with the Minnesota Wild. 
The Carolina Hurricanes are winning the offseason arms race. A strong draft and some early, high-quality signings have put the 'Canes at the forefront of the hockey world's attention.
One thing is missing: signing Ryan Suter.
Yes, it is a long shot, especially with Suter looking at big deals from the Detroit Red Wings.
But Carolina has made runs at both of the biggest names in this year's free agent class in Suter and Zach Parise.
While the 'Canes feel they are out of the running for Parise, they are still interested in Suter, but their window is closing quickly.
Signing Suter would be huge for an already active Hurricanes team this offseason. 
These are Carolina's moves so far:
Signings (previous team in parentheses):
Defenseman Joe Corvo (Boston)
Forward Brett Sutter (resign)
Goaltender Justin Peters (resign)
Trades:
Jordan Staal (from Pittsburgh)
Draft Picks:
Phillip Di Giuseppe (LW)
Brock McGinn (LW)
Daniel Altshuller (G)
Erik Karlsson (C, LW)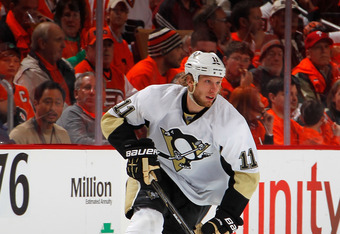 Paul Bereswill/Getty Images
Trevor Carrick (D)
Jaccob Slavin (D)
Brendan Woods (LW)
Collin Olson (G)
Brendan Collier (LW)
Targets and needs (according to the team):
Ryan Suter
Another top-defensive player
Fourth-Line Help
What this all means is that the Carolina Hurricanes could turn themselves into the favorite to come out of the Southeast Division. With a 33-33-16 record in 2012, the 'Canes finished 12th in the conference and 10 points out of the final playoff spot.
Adding a top-six forward in Jordan Staal gives their offense a much-needed boost. Carolina scored 213 goals last season—only the New York Islanders, Florida Panthers and Montreal Canadiens scored less in the Eastern Conference.
The Canes also need to improve defensively.
Each of the eight teams who made the playoffs in the East gave up 240 goals or less.
The Canes gave up 243.
With Florida, Washington, Tampa Bay and Winnipeg in a wide-open Southeast Division, the Hurricanes could be a top-three seed in 2013.
They just need to steal Suter from the Red Wings to seal their defensive need.
Cam Ward has been consistent in net for the 'Canes. An offensive boost from Staal, defensive consistency from Suter and a ton of fresh talent from the draft puts Carolina in prime position to run through the Eastern Conference.